"Next Steps to Fight Hate" drew a mass of 300 to the Hairpin Art Center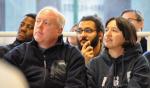 Bewilderment, fear, anger, outrage, frustration and/or sadness are what caused a sea of at least 300 people to the large 2nd floor Hairpin Art Center, 2810 N Milwaukee Ave., Saturday afternoon. The Next Steps to Fight Hate event focused on moving people out of the toxic environment built up during the presidential campaign and moving them to action. 
Will Guzzardi, newly re-elected Illinois 39th District House of Representative and the United Neighbors of the 35th Ward (UN35) thought that maybe 30 people would show up to their hastily announced gathering. The hundreds who poured in the doors proved that the need to help individuals was greater than anticipated. It is "huge." 
Opening remarks by Guzzardi and Eleanor Anderson, Advisory Board member, UN35, were followed by discussion circles which then re-assembled for powerful presentations. The goals were to move everyone toward personal resolutions and group actions. 
Attendees chose a discussion circle by the topic that interested them: 
What happened and why did Donald Trump win
How to protect loved ones in light of a Trump Presidency
How to talk with friends and family who are Trump supporters  
Then they looked at what needs to be done and how. 
Concerns and fears
Concerns and fears expressed were palpable. They included issues like experiencing:
family in Kentucky they didn't know how to talk with
fearful Mexican in-laws who were citizens but thought they might be deported 
children hearing then using socially unacceptable terms for a female's anatomy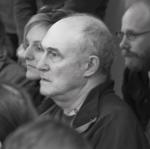 cynicism of a long-time gay friend who said, "I am used to having people vote against my rights my whole life….now you care?"
family members losing body parts because of reduction in social services
a taxpaying undocumented Polish mother whose 13-year efforts to gain citizenship has not been achieved yet 
Recommendations
Much information was exchanged in and out of the circles. Below are just two examples.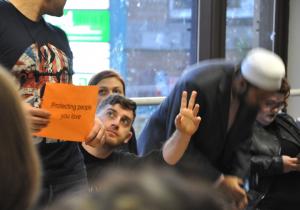 In talking with those who do not have your viewpoint, without making yourself emotionally upset, especially at work but also with family, "attacking people is not the way to go…they will be defensive and shut down," said one person. "Acknowledge their worries, people are scared about violence that has been incited by Trumps rhetoric."  
"Tell them how you feel." 
Another attendee shared her interaction with her mother, "My Kentucky based mother appears to be more interested in being engaged in discussion. I'm not sure who she voted for … don't want to know. 
"Talking with her about people's fears about Trump, she said, 'You know I love my gay friends.' I said, 'Mom that is great but when there are discussions about policy about gay rights in your communities, you need to make your voice heard by your friends.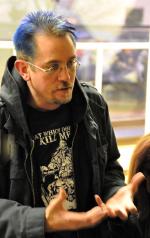 "If it is about jobs, that is fine, but, whatever, you need to stand up and get the discussion back to the issues."  
Current environment
"People are trying to minimize the effect Trump is going to have, even though they have always been Democrats," said one person. "Many who voted for Trump were actually voting against Hillary. They don't realize what they voted for. 
"Seeds of doubt were sown in people's minds, their world is Facebook. They don't know what is real information." 
What many agreed to about changing the environment was the need for education. 
Why change
Two of the leaders, Marta Popadiak, Executive Director, UN35, and Melissa Rubio, Political Director for Rep. Guzzardi and Organizer with Reclaim Chicago, spoke out about next actions. Both have been working for social justice in the 35th Ward area and are passionate about bringing civility and fairness back in the United States as well as locally. 
Both are scared for loved ones. Both are fighting to get the American dream back where people are healthy, happy and safe, not in life threatening situations, angry and in fear about their future. 
Rubio made her point about society having safety nets for those who are poor and have medical challenges. 
"I'm a little scared for people I love and those I don't know. Families who rely on social services. For example, a vial of insulin is very expensive for a diabetic. Social service programs that help with costs for insulin have been financially squeezed for sometime. 
"Without those programs, people end up having their limbs cut off. My dad had to make a choice this summer, though he didn't tell us. He chose food not insulin. Now he has no legs," she concluded as her voice broke. 
Popadiak explained that after the election results came in, she felt extremely overwhelmed. She could not get off her couch. "I felt guilty…hopeless…I should have worked harder. 
"I have experienced sexual violence, yet the person elected to the highest office in my county is a sexist, misogynist and rapist.   
"My mother is undocumented. We have had a 13-year struggle for her to get her green card. Paying taxes in this country, she has lived here longer than she has lived anywhere else. 
"Mom… is a white immigrant from Poland who won't be pulled over and terrified, but that 13-year fight for her green card may be washed away and she could be deported," she said through tears. 
"We must all keep working to educate our neighbors before the next election and be vigilant as to what public officials are doing, calling them out if we don't agree with them." 
Everyone was urged to check one or more boxes on a form that indicated what actions with which they wanted to be involved. The choices fell under:
Connect with an organizer
Talk with your neighbors
A budget that puts people and planet first
Affordable housing
Become a member
Call to action*
Encouraging everyone to work hard to win over people, Guzzardi said to the crowd that they are needed to participate in sustained, hard, nitty-gritty work of talking to people, building a movement, changing hearts and minds and advancing ideas. "That shapes dialogue that focuses on the values we believe in. 
"I promise you that there will be good days too. I promise you that we'll win elections, that we'll win fights in this neighborhood. I promise you that we'll make the State of  Illinois a beacon of hope and a country that reflects those same values. I promise you.
 "Don't just talk about something, be about something… be engaged!"
*For up coming events or getting involved, go to the UN35 website or contact Marta Popadiak or Melissa Rubio
Related:
Crime Stats By District
Columnists