One teen fatally shot on Milwaukee Ave. in Wicker Park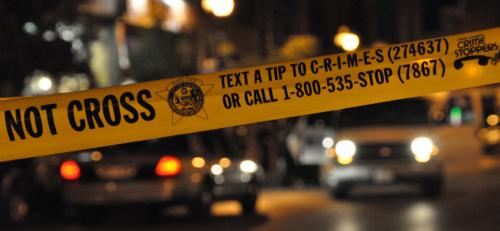 Update:
The victim was Miguel Delgado from the 2500 north block of Kildare, according to the Cook County Coroner's Office. 
Gun shots were heard by police at 2:21 a.m. Sat., Sept. 14, from the 1500 north block of Milwaukee Ave. When they arrived on the scene, one 19-year-old male was found unresponsive. He was fatally shot in the head. 
Three persons of interest are in police custody according to Officer John Merabelli, Chicago Police Department. It is under investigation by detectives. 
On the scene, evidence officers were taking evidence on the west side of Milwaukee north of were the body laid in the street near the curb.
Part of the plate glass window of a clothing store was missing from the frame, laying partially smashed partially in sheets on the sidewalk on the east side of the street, north of the victim. 
The coroner's office removed the body after 5 a.m. The Chicago Fire Department's Truck #35 from the Damen Ave. station arrived on the scene to hose down the street as officers were removing the crime scene tape.
Some on the scene indicated that the victim had been shot three times, but that is not verified by investigators. There were apparently many witnesses as Friday night activities were beginning to wind down on the strip. 
It is believed that this is a gang related shooting but specifics are not yet official from the Police Department.
Related:
Crime Stats By District
Columnists