Pigeon feeders in public places could face increased fines and jail time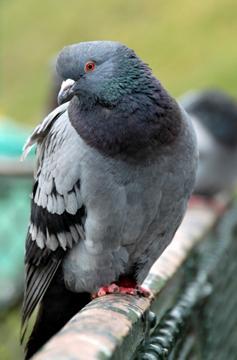 Jail time could be part of a judgement for feeding pigeons in Chicago's public places. Defined in the amendment of the Municipal Code ordinance (7-12-387), Title 7 - Health & Safety - Ch. 12 Animal Care & Control, as "any live bird of the Family Columbidae," pigeons are the target of Aldermen Daniel Solis' (25th) and James Cappelman's (46th) proposed amendment for ordinance 7-12-387.
Proposed to the Committee on Zoning, Landmarks and Building Standards, "No person shall purposely provide food, including but not limited to grain, seeds, greens, bread crumbs and other miscellaneous food scraps intended for pigeon ingestion on public property, or property subject to the city right-of-way, or property subject to easement or other agreement giving the city control or use of the property."
The fine would increase to a maximum of $1000 and could include up to 6 months in jail. Furthermore the ordinance states, "Each day that a violation continues shall constitute a separate and distinct offense."
People handing out food to the birds cause large numbers of what some call "flying rats" to congregate in large groups. Their presence and their droppings, according to Cappelman, is a public nuisance.
For more than a year the Polish Triangle Coalition (PTC) has been researching how the problem of pigeons can be dealt with in the triangle at Milwaukee, Damen and Division. One is the use of other birds which prey on the pigeons. 
PTC's research includes determining how to change the culture of those who are feeding the birds. Merely asking them to stop does not work. It is felt that the presence of the birds and their droppings prevented the summer market from being successful, according to the SSA #33 who sponsored the market.
Chicago Police officers in certain areas, including downtown, according to Inside Publications, have been writing citations for those seen feeding birds in city parks and in other public places.
Related:
Crime Stats By District
Columnists