Police Commander Frank Gross leaves the 13th District for corporate America
When Commander Frank Gross handed Captain Kevin Anderson a Certificate of Service during the 13th District Appreciation Day on Sept. 8, little did either know that Anderson would be acting commander of the 13th (Wood Street Station) starting Oct. 15.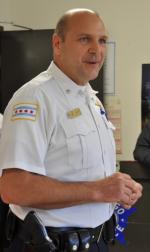 A room full of police officers and staff from the 13th, 11th, 14th, 20th Districts and mobile were on hand, along with family and friends, Friday afternoon to give Gross a send off to his new job in corporate America.
At the end of the month, after almost 26 years of service with the Chicago Police Department, he will be taking on his next role as Vice President of Protective Services Regional Manager for Bank of America (BA). He'll be on LaSalle St. instead of Wood St.
"I received an offer that I couldn't refuse," Gross told this reporter earlier in the week. "I have  children in college, which was a consideration. Really, I never thought they (BA) would meet my expectations. But, they did and I couldn't say no."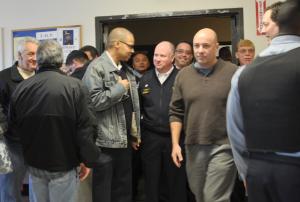 Speaking to his well-wishers on Friday, he said, "This is still the best job I'll ever have. For those I've left behind, I will be with you in spirit all the time. You will take care of this job. You will take care of the citizens. You will take care of the people because we are the police and we go in where no one else does. You can be so proud of doing that every single day."
A colleague and friend then stepped up and said, "It's been an honor and privilege to work with Frank on several different events and details. Your dedication and the way you put things together... you've been with me from 4 in the morning until midnight or later not knowing what's around the next corner. That is much appreciated…your friendship as well." Then on a lighter note, he presented a gift, "I know you are going to miss your Blackberry, but in the interim we got you a camera that you can use."
Amid laughter when he was presented with a throw-away box camera, several officers held out job applications for Bank of America.
Gross' two sisters, nephew and brother (a retired Chicago Police Officer) were part of the celebration sharing some little known facts such has his sense of humor and his being with Second City. When asked about Second City, he assured this reporter that it was "unintended."
Edward Gross, Frank's brother, began his CPD career in the 13th District as a Cadet, working there thru the 70s. He went on to be the Commander of Public Transportation before spending 5 years with the government in transportation.
Their grandfather Frank Hopkins, for whom the Commander was named, began his career as a Chicago Cop in 1929 and his  brother Edward was another man in blue.
Sunday night the Commander made his last arrest, Reckless Conduct, after a driver on the Kennedy Expressway sped by him then went airborne, toppling a lamp pole, closing the Expressway.
Regarding the closing of the Wood Street Station and the merger of the 12th and 13th, the move of the 13th to the new facilities has been postponed again because of required equipment changes. While there are rumors about who the commander will be for the new district, there has been no official statement as yet. One thing is certain, it will not be Frank Gross.
Related:
Crime Stats By District
Columnists