Search for a Polish Triangle designer underway
The Polish Triangle Coalition (PTC) set March 10 as the deadline for responses to their "Request for Proposal for Pro-Bono Design Services for the Revitalization of the Polish Triangle." 
A transportation hub for the Chicago Transportation Authority's Blue Line train and buses as well as taxis, the people plaza is bound by Milwaukee Ave., Division St. and Ashland Ave. Historically significant, it is the gateway to four neighborhoods: Wicker Park, East Village, Pulaski Park and Noble Square.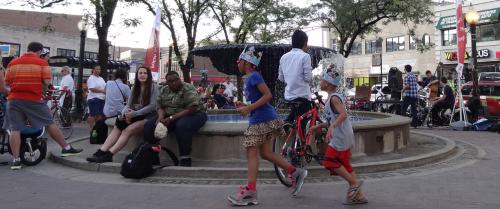 Heavily trafficked by foot, bike, vehicle and public transportation, it has potential to serve the communities as more than just a pass through. 
PTC formed in 2010 to build on earlier efforts that identified needed improvements and a transformation of the space into a significant public amenity. 
The group includes community members and representatives of community organizations, businesses and religious and educational institutions who have a shared interest in revitalizing the space. Doing research about the communities' interests, needs and dreams, PTC took action and utilized several resources garnering information from:
the 2010 report of the Metropolitan Planning Council and Wicker Park Bucktown Special Services Area #33 (SSA #33)
SSA #33's two year effort to hold a type of farmers market during the week
results of an online PTC survey resulting in approximately 1,600 responses
PTC's four years of free 16-week summer entertainment programs on Tuesdays (Tuesdays at the Triangle) from 5:30 to 7:30 p.m. with food vendors
Plaza programming by ACTIVATE! Chicago (Latent Design), part of the Chicago Department of Transportation's 'People Plaza' program, a public-private partnership to activate and maintain underutilized public spaces 
The result is that PTC is now soliciting designers to take the revitalization goal to the next level. Once they have a designer or designers selected, the design phase will begin. With the design completed, PTC will work with the city and city department to verify what is permitted. 
As a 501(c)(3) non-profit organization, PTC will then go into the funding mode, ending with a revitalized people plaza space for passive and active use for thousands of people weekly. 
For those interested in viewing and/or downloading the design documents, click on the Design Brochure (PTCInfoRev6.pdf) and Design RFP (PTC RFP for Pro Bono Design Services.pdf) below.
Related:
Crime Stats By District
Columnists