Tresser, Joravsky and Dye headline Tax Increment Financing meeting of 200 plus in Chopin Theatre
Ben Joravsky, Richard Dye and Tom Tresser, three of the most knowledgeable people about Tax Increment Financing (TIF) in Chicago, spoke before more than 200 people, Tue., Feb. 12,  on the main stage in the Chopin Theatre, 1543 W. Division, put on by The Tax Integrity and Fairness alliance (TIFa). Pointing out the financial details and lack of transparency in the program, they used Alderman Walter Burnett's 27th Ward with 12 TIFs as an example. 
The Panel
Joravsky, from The Reader, has for years staunchly preached about and questioned "the Chicago way" of TIFs. Dye, from the University of Illinois, specializes in property taxes, TIFs and urban/suburban development. Tresser, who led the battle, amongst other things, against Chicago hosting the Olympics in 2016, No Games Chicago, is now the Tool Builder-in-Chief of CivicLab. CivicLab is a new nonprofit enterprise dedicated to building, distributing and encouraging the use of new tools for civic engagement and government accountability. Valerie Leonard moderated the panel. Leonard is a consultant and former contender for the 24th Aldermanic seat.
TIF Basics
Dye explained what a TIF is and reminded the audience that each TIF has a 23 year life span in Chicago and that money from one TIF can be moved to another, if they touch.
"It [a TIF] is not an economic development plan it is an economic financing plan," he explained. According to the results of research he has been involved in, it appears that TIFs move money around but don't necessarily create value. In fact, though TIFs were intended to be for blighted areas, if an area is totally blighted, they do not drive up property values.
TIF Illumination Project
Tresser explained that CivicLab has created the TIF Illumination Project. The plan is to go into each community and learn what is happening with each TIF. The goal is to investigate, educate and activate in the hope that smarter taxpayers will demand more citizen control over how tax dollars are spent. One of their first action items is to get the TIF information printed on Property Tax Bills. They have an online petition.
The audience reacted with gasps and some shouting when he stated that the Chicago TIF "bank accounts" totaled $1.3 billion at the end of 2011. Tresser went on to say that they began their investigation by trying to obtain a list of all the TIFs along with:
tax collected into the TIF
amount spent
dollars remaining
Their research shows the list of wards based on the percentage of  property in the ward covered by a TIF district. The top three were:
24th Ward with 86%
3rd Ward with 82%
27th Ward with 77%
Only one ward has no TIFs, the 41st which includes O'Hare Airport.
27th Ward Example
To make the numbers real, Tresser used the 27th Ward as an example of what they have been researching. Breakdowns for the 27th Ward:
12 TIFs, covers 77% of the Ward
$111 million were collected in taxes in 2011
$36.8 million went to TIFs in 2011
$74.2 million went to the taxing bodies
$255 million extracted for TIFs over 9 yrs
At the end of 2011 there was $398 million in bank accounts for the 27th Wards' 12 TIFs
"If you could sunset that $398 million on Jan. 1, 2012, and send the money back to the Ward, people would have had $62 million to spend in the Ward," explained Tresser.
Further analysis of the numbers showed that between 2003 and 2011 expenditures broke down as:
42% public (Mostly the Board of Education)
46% private
12% not-for-profit
Monies going to 12 private entities included $8 million to Blommer Chocolate, Mariano's Grocery $7 million, H20 Plus $1 million and Jewel Foods $4 million. "What is the economic reasoning for giving these companies this amount of money? Do the people in the 27th know and did they have a say in how this money was distributed," asked Tresser.
"Another thing that is problematic is that the amount spent on school buildings can not be spent on teachers. It might be that the people in the 27th Ward want to spend more money on teachers or more library books or more parks. But they don't have a say.
"We do know that the Board of Education does fund private schools with TIFs. Of the Research that has been done 48% of the money going to public school construction, 52% is for charter and selective enrollment schools."
Tresser reports that it has been very difficult to get these numbers. he is looking for more volunteers.
Ben Joravsky
"What I have discovered through these years and years of obsession [regarding TIFs] is that it is truly one of the greatest scams ever perpetrated and it is on going," said Joravsky.
He explained how, if done correctly, the taxing bodies not receiving the collected tax increments would be investing in their future. Those monies, put into the TIF, would be used to create something that would generate more taxes in the future which in turn would bring in more revenue, for the taxing bodies. But, that is not how it works in Chicago.
"It was sometime in the 90s when someone in the Mayor's office figured out that if you just slap TIFs anywhere you want and have no specific goal for them, you would have money pour in. Then you would have a ceaseless source of money that  the Mayor alone would have to play with. When the real estate market was strong it was well over $500 million that was pouring in annually."
Using the 27th Ward's numbers, he explained that the $20 million that the school district did not get because of the freeze, would cause school tax rates to go up so all property taxpayers in the City to cover that TIF portion. "Of all the problems with the TIF program in Chicago, this is the grossest inequity of the program," he stated.
"We may have made some progress on the TIF scam in Chicago. I think as a result of 8 years of angry people beating their heads against the wall trying to get people to pay attention, we have turned the three letters T-I-F into something that the public knows is bad…B-A-D.
"Though Rahm Emanuel was absent from the City for the last ten years, before the people of Chicago decided to elect him their mayor, he is a very quick study and he realized that it is not a good thing to just keep the TIF program alive the way Mayor Daley did. So, what he did was to proclaim himself a reformer of the TIF program. He empaneled a committee to produce a report and as soon as that report was produced he said, 'We've reformed the TIF Program.'
"Since most people in Chicago don't pay attention to these things and details, that was good enough for them and he got favorable editorials from major mainstream papers for reforming a program that he didn't reform.
"He has shown restraint. He hasn't created any new districts in the last one and a half to two years so that is progress. He hasn't dedicated any big chunk of the money to any hair-brained scheme…which is more progress."
Joravsky did go on to name some expenditures being not good such as the $30 million to build an up-scale skyscraper office building in River North as well as money for a grocery store in Greek Town, another grocery store in North Center and a few smaller things.
In his closing remarks he said, "We are sort of in a holding pattern on the TIF Scam.
"The Mayor and the powers-that-be understand that you, the public, realize that it is a bad program. And, that it is a scam and that some way it does divert from schools and parks etc. There is this inherent contradiction that Tom and Professor Dye were talking about where we [the City] are supposedly broke and yet there is all this money sitting in a bank account that we don't have access to."
"My problem is not with the Mayor for perpetuating this scam, my problem is always with the citizens of the City Of Chicago who allow this to happen year after year."
Joravsky's report on the Town Meeting is in the The Reader.
Audience Participation

The evening ended with questions and answers from the audience followed by breakout sessions: Planning your own Utopia, TIF Illumination Project and TIF organizing.
Two of the questions were:
1. "Who should we go to, to end the TIFs?"
The State writes the law. Way to change is to go through the State Reps.
Second is to elect aldermen and a mayor who would reform the program.
Start by getting the TIF statements on your Property Tax Bill.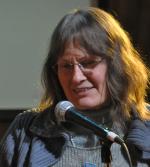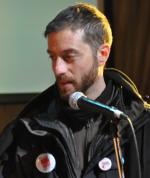 2. "Who makes decision as to where TIF dollars go?"
The Mayor  with alderman having some say.
There are oversight boards for the taxing bodies such a the Chicago Public Schools. According to Joravsky, "For years, CPS has been embarrassing silent on this while they cutback on schools, teachers, etc. If we ever got to an elected school board and just one person spoke up and criticized a TIF….I think that is one way that there could be oversight that is not available now.
Tresser suggested might be a smarter way to vision the future. Why don't we make sure all our kids graduate safely from high school able to read at or above grade level?  Right now only 52% graduate and most are not ready to take their place in the economy.
There will be a Tax Integrity and Fairness Alliance meeting in Lovely Bakery, 1230 N. Milwaukee Ave., at 10:30 a.m. on Thurs., Feb. 28.
Related:
Crime Stats By District
Columnists