"It's that time of year..." to give back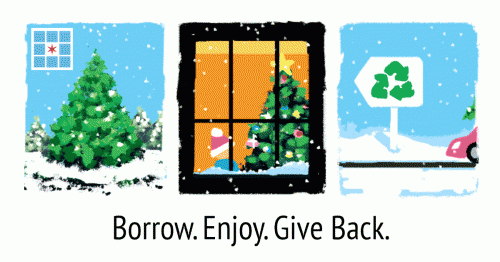 "It's that time of year....." The boxes have gone to recycling. The gifts have been put away. The exercise plans are already in the rearview mirror. 
It is time to remove the ornaments, lights and tinsel from the live Christmas tree. Then give that wonderful tree a last chance to contribute to the neighborhood!
Give your tree to Chicago's Christmas Tree Recycling program. That donation will be turned into mulch which will enhance the growth of other trees and vegetation. In addition you'll be lessening the amount going into landfill.
Who cares?
Last year alone, 17,000 Christmas trees were composted through Chicago's program. Pound wise that kept 620,000 pounds from landfill, adding to more healthy soil throughout the City.
When and Where?
You may drop off your tree at any one of the 25 Chicago Parks shown in the map below.
The drop-off sites will be open from Jan. 9 thru Jan. 23.
Six of the park sites will also provide free mulch starting on Jan. 12. First-come will be the first-served. Those sites are: Lincoln Park, Margate Park, Mt. Greenwood Park, North Park Village, Warren Park and the Forestry Site. 
Bessemer Park, 8930 S. Muskegon Ave.

Clark Park, 3400 N. Rockwell St.

Forestry Site*, 900 E. 103rd St.

Garfield Park, 100 N. Central Park Ave.

Grant Park, 900 S. Columbus Dr.

Humboldt Park Boathouse, 1369 N. Sacramento Ave.

Jackson Park, 6300 S. Cornell Ave.

Kennedy Park, 2427 W. 113th St.

Kelvyn Park, 4438 W. Wrightwood Ave.

Lake Meadows Park, 3117 S. Rhodes Ave.

Lincoln Park*, Cannon Dr. at Fullerton Ave. (East of Cannon Dr.)

Margate Park*, 4921 N. Marine Dr.

Marquette Park, 6700 S. Kedzie Ave.

McKinley Park, 2210 W. Pershing Rd.

Mt. Greenwood Park*, 3721 W. 111th St.

North Park Village*, 5801 N. Pulaski Rd.

Norwood Park, 5801 N. Natoma Ave.

Portage Park, 4100 N. Long Ave.

Riis Park, 6201 W. Wrightwood Ave.

Rowan Park, 11546 S. Avenue L

Sheridan Park, 910 S. Aberdeen St.

Walsh Park, 1722 N. Ashland

Warren Park*, 6601 N. Western Ave.

Wentworth Park, 5701 S. Narragansett Ave.

West Chatham Park, 8223 S. Princeton
Related:
Crime Stats By District
Columnists