Salmonella outbreak in 34 states including Illinois linked to onions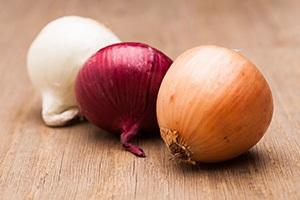 The Centers for Disease Control and Prevention (CDC) and the U.S. Food and Drug Administration (FDA) are investigating a multi-state outbreak of Salmonella Newport infections linked to onions. There have been 396 reported cases in 34 states, including Illinois, with 59 hospitalizations.
One known potential problem are ready-to-eat meat and poultry products with onions being recalled by Thomason International, Inc. 
One product know to be shipped to Illinois retail locations and via mail orders is 1.25-lb quart jars of AMANA MEAT SHOP and SMOKEHOUSE HAM WATER ADDED IN VINEGAR PICKLE on May 14, 2020, June 2, 18, and 29, 2020 and July 2, 9, 21, 2020, with lot codes E2620, F0320, F3720, F5420, G0620, G1720 and G3920.  
The products bear the establishment number "EST. 2357" inside the USDA mark of inspection. 
Also on the do not eat, serve or sell onions list are onions from Thomson International, Inc., or food made with these onions. Onion types include red, white, yellow and sweet yellow varieties.
For your safety and well being
Check your refrigerator and kitchen for recalled onions or foods made with them, such as salads, wraps, tacos, sandwiches, etc. 
Check packages or look for a sticker on the onion to see if it is from Thomson International, Inc., or one of these brands: Thomson Premium, TLC Thomson International, Tender Loving Care, El Competitor, Hartley's Best, Onions 52, Majestic, Imperial Fresh, Kroger, Utah Onions and Food Lion. 
If you can't tell where your onions are from, don't eat them. Throw them away.
If you used onions to make any other food and don't know where the onions were from, don't eat the food.  Throw it away, even if no one got sick.
Wash and sanitize any surfaces that may have come in contact with onions or their packaging, such as countertops, refrigerator drawers, knives, and cutting boards.
When you eat out or shop for food, check with restaurants and grocery stores to make sure they are not serving or selling recalled onions from Thomson International, Inc., or foods prepared with them, such as salads, sandwiches, wraps, salsas, and dips.
If they don't know where their onions are from, don't buy the product.
People sickened in this outbreak reported eating raw onions in freshly prepared foods, including salads, sandwiches, wraps, salsas, and dips.
Related:
Crime Stats By District
Columnists