Spring forward Sunday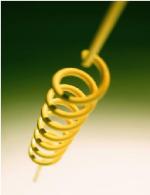 Spring forward...Sunday will be operating one hour ahead!
Set your clocks forward before going to bed Saturday night.The second Sunday of March, at 2 a.m. is when we spring forward one hour for Daylight Savings Time. 
This is a good time to remember to also change your smoke/carbon monoxide detectors. 
These dates were established by Congress in the Energy Policy Act of 2005, Pub. L. no. 109-58, 119 Stat 594 (2005)
Related:
Crime Stats By District
Columnists