Lincoln Tavern owner William C. Folak dies unexpectedly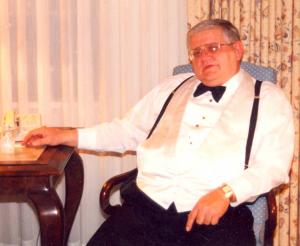 "At times he was quiet but he was called Big Bill for many reasons," Veronica (Ronnie) Folak explained about her father William C. (Bill) who died Monday in the family bar and restaurant, Lincoln Tavern at Wabansia and Wolcott in Bucktown. "He had a big voice, big attitude...he was a big guy." Bill's son (Billy) said, "He'd take on being the devil's advocate...just to create conversation. He could tell jokes like no one else.  He had a quick wit."
"He was a great Polka dancer. When I debuted, he waltzed with me. He was so light on his feet, he could twirl you around the floor like Fred Astaire. All the girls wanted to dance with him," reminisced Ronnie.  Billy recalls their duck and pheasant hunting, "He loved hunting and his Labradors. There were eight labs, one is left. We had great times."
Both Ronnie and Billy particularly remember the family vacations which included Niagara Falls; visiting family in Canada; Tucson and Tombstone, AZ, excursions; and a trip to Michigan where they visited the Kellogg plant and saw cereal being made.
Local resident, Joe Lake, described Bill as quiet but a surprisingly eloquent man.  Two examples were when eulogizing his wife and the other when supporting another community bar and restaurant, Club Lucky, in getting parking approval.
Bill Folak loved his bar, neighborhood and family. "He sat right here," Ronnie said, pointing at the end chair on the short end of the bar and then at the seat around the corner on the long side, "his hunting partner sat there...it was Monday. He always comes in then. They were talking. Dad was sipping iced tea. Billy served his partner coffee, turned to put the coffee pot back.  Dad leaned over the bar. His partner said 'Bill are you OK?' Billy came around the bar yelled for me and called 911. A customer called 911 too. I could see he was having a heart attack. Customers helped get him onto the floor and started CPR.
He had no pulse. The paramedics tried shocking him but got no pulse. One of them looked at me and I said, 'I know, I think my mother came to get him. But, take him to the hospital.', which they had to do. After we got to the hospital, the doctors came out and looked at me and I said I know. One doctor asked, 'Why are you ok with this?'  'I'm not,' I told him. 'But, he always said that when my mom came to get him, he would go. So I think mom did.' He went like his mother went...very fast and that is what he wanted.  He didn't hurt."
A Chicagoan, Bill, 71, lived on a farm in Burlington, IL, during World War II. Billy credits his dad's interest in gardening to those early experiences. Al and Sophie Folak, Bill's parents, purchased Lincoln Tavern in 1950 when the area had many factories. The space that is now the Tavern's dining room and kitchen was the family's apartment.
Bill was preceded in death by his wife, Sandra, in 2004, and his brothers.  Surviving are his two children, Veronica and Bill, his grand puppy, nieces and nephews, cousins, and two of his wife's sisters.
The wake was Thurs. and is tonight until 9 p.m. at Skaja Terrace Funeral Home, 7812 N. Milwaukee Ave. in Niles with mass at 9:30 a.m. on Saturday at St. Mary of the Angels, 1850 N. Hermitage Ave. Internment will be at St. Adalbert Cemetery.
The business will be closed until at least Wednesday.
Related:
Crime Stats By District
Columnists