In memory of Daniel Blue: A patchwork of facts, respect, admiration, appreciation, love and affection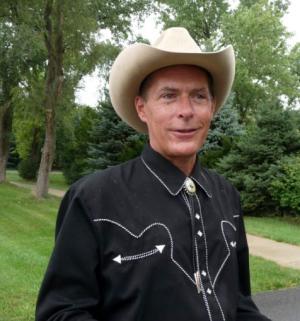 UPDATE Jan. 6:
The Chicago Police Detectives indicated that they are waiting for a toxicology report which can take up to 6 weeks but there is no indication of foul play.
Described as sculptor, raconteur, friend, brother and man of mystery, Daniel Blue is dead at the age of 55. Resident in an industrial building east of Elston and near the Hide Out, Dan was found in his home Jan. 2. The cause of death has not been determined. There will be a memorial service at some point but no plans have been established.
His unexpected passing has his family, friends and colleagues in a state of shock. As they each talk about him, they all express many of the same feelings... respect, admiration, appreciation, affection, love and a terrible sense of loss. The kind of loss that opens a gaping hole in the middle of your being.
Dan was the middle child born to the late Donald and Ruth Blue, Cindy was the eldest and Tom the youngest. They grew up in Northbrook and attended Glenbrook High School. Dan continued his education at the Art Institute of Chicago.
"Big Blue, that was our nickname for him, was a great brother. We would pick on each other, but he was always there to make sure I was ok," said Tom. "As kids we were always outside having crazy fun. We played kids games that we made up with other neighborhood kids. Nobody would get hurt, it was kid stuff.
"He was at the Art Institute of Chicago for only two years because the instructors felt they had no more to teach him. He had already purchased the machines he needed so he went off on his own. Later he spent another two years as an apprentice for other sculptors.
"Being an artist, he was on his own creative time schedule, often having many projects going at same time. He stepped back from his artwork for awhile. He decided to put his own life on a back burner to try and help others. He was a good friend to those he cared about and wasn't afraid of speaking up to others. He avoided the spotlight."
Part owner in the Sedgwick Studio, a former CTA sub-station structure in Old Town, Tom Scarff brought Dan into the studio.
"He came to my studio when he was 18. He was a talented genius, a hard worker. He was always creating and making something better. He was like a son without the blood connection.
"Dan loved kites, the crazier the better. One night he brought out [to Indiana] a huge kite. It was a foggy night we were on the beach. He attached a flare, that burned for 20 minutes, to the kite string and it sailed up high over head. Suddenly every path in the area had beams of flashlights. A friend of mine had his Russian Wolfhound with us too.
"The police, who received about 50 UFO reports, were part of the parade of flashlights. When they encountered the Russian Wolfhound they were convinced they had found the aliens! We assured them that we had meant no harm, just having some fun. As they left, they turned to Dan and said, 'Please don't do that again.'
"I'll never see another kite without thinking of Dan."
Another one of Dan's partners was John Adduci. According to him, they also formed Adduci Blue, Inc. in the early 80s. "We fabricated other sculptors' works for about four years. Dan was a great nuts-and-bolts guy, a fine craftsman. As a person, he was a perfect gentleman. He was polite and went out of his way to be a good guy." Among the sculptors for whom they fabricated was Jerry Peart, another former partner in the Sedgwick studios.
Dan's own work can be seen in Northbrook (above), in Kenosha, WI, and in Chicago.
A more recent acquaintance of Dan's is Victor Cassidy. "I was organizing a show and writing a catalog for Steve Urry (1939-1993), a forgotten Chicago sculptor who was a friend of Dan's in the 1980s. When I needed $5,000 to be able to house the show at Oakton College, Dan was there to make it possible.
"In the show were two Urry pieces from Dan's collection. He later donated those pieces to the Oakton Museum."
"When I was trapped in my bedroom for 84 hours, it was Dan who met the police at my building and broke the front door open. The paramedics rushed me to St. Mary's," explains a grateful and healthy Joe Lake, former Wicker Park resident. "We had many happy lunches at Chicago's Italian La Scala. For dessert, Dan told the waitress, 'We'll have a cannoli, leave the gun.'"
"He was handsome, intelligent, inspiring, creative, compassionate and the most generous person I've ever known," said Debra Lewis who met Dan in 2010. "I'll never forget the roof top conversations, lunches and going to exhibits."
Dan's charm and continual interest in bringing a smile to people's faces is illustrated by Bucktown's Michele Deptula. "I had seen Dan occasionally walking past his home, but didn't know him at the time. One day, he stopped what he was doing, grabbed his pocket-knife and cut a bouquet of daylilies from the roadside for me. From then on, we'd always say hello whenever I saw him. Dan was unique and I always enjoyed his company."
"Outspoken about crime, he acted against it.," comments Scott Waguespack, 32nd Ward Alderman. "He will be sorely missed.
"Dan provided us with many of the tools we use to improve the ward. He was always hands on and constantly worked to improve his part of the city."
Dan's concern for his neighbors and the community is how I got to know Dan. He was involved in attending the deleterious impact meetings for a business in his area. He was a treasure.
Please leave your thoughts and tributes below.
Photos courtesy of Debra Lewis
Related:
Crime Stats By District
Columnists