Reverend Ruth VanDemark loses battle with Cancer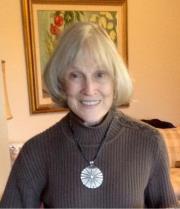 Reverend Ruth VanDemark, pastor of Wicker Park Lutheran Church (WPLC), 1502 N. Hoyne Ave., passed away peacefully on Saturday afternoon, June 9,  in Northwestern's Prentice Women's Hospital as a result of cancer which had metastasized.
Visitation will be in her church beginning at 9 a.m. on June 23 and the service will be at 11 a.m. It is also the day that she and her husband Leland Wilkinson (Lee) would have celebrated their 45th wedding anniversary.
"The congregation grieves at Ruth's death however they celebrate knowing her suffering is at an end," commented Pastor Paul Kopka who stepped in to provide pastoral services to the church. Wicker Park's Brent Norsman, a parishioner since 2002, said, "I got to know Ruth and Lee through the Wicker Park Committee before we became church members. They were good people.  She was a wonderful, great lady who was a fixture of the community. Sunday (at the church service) was a very sad day."
Lawyer turned pastor, Ruth received a Masters of Theological Studies degree in New Testament Studies from Harvard Divinity School in 1969 after completing her under-grad degree from Vassar college. In 1976, she graduated with honors from the University of Connecticut School of Law and began practicing law in Chicago.
"I remember her more as a junior lawyer in a big litigation firm, than as a minister. While far from being the only junior lawyer who made such a switch,  Ruth's conversion was exemplary and an example for all of us," commented John Notz whose family ties (the Uihlein family of Schlitz Brewing) go back to the early days of Wicker Park.
She was with that law firm for 18 years, first as an associate and then as an equity partner, heading up the firm's appellate practice group. President of the Appellate Lawyers Association in 1992–1993, she served on the Illinois Supreme Court Rules Committee from 1996 to 2002.
While maintaining a part time appellate law practice from her own offices from 1995 to 1999, Ruth completed the clinical requirements for ordination including Clinical Pastoral Education at Northwestern Memorial Hospital. In addition, she held a two-year part-time internship at Augustana Lutheran Church of Hyde Park.
In 1999, she became the part time pastor at WPLC, taking on full time duties in 2001 while continuing to practice law on a part time basis until 2002. Her interest and involvement in the community is what helped bring new people into the church. "She worked to open the church for rental which was a much needed resource for groups like Wicker Park Choral Singers. This was a vital element for their success," points out Doug Wood of the Wicker Park Garden Club and the Wicker Park Advisory Council.
"A very caring person, she brought a new sense of spirit and enthusiasm committed to expanding and reaching out to all parts of the community. It was always a joy to see her and I deeply regret her passing," said David Schulz of Hawthorne Woods. (His great-grandfather Mathias Schulz moved into Wicker Park in 1871.)
"She was an incredible person who engaged with North Avenue Day Care (NADC) and the community. She was a perfect community person with deep commitments. She attended meetings even when she was in the midst of health problems," explained Chris Johnson, on the North Avenue Day Care Center board and part of former Alderman Manny Flores team.
"A major, major loss to the North Avenue Day Care Board and the children that we serve," relates Manny Cossi, Board President. "You don't find people tirelessly giving of their time so much any more as she did. She was where you needed her when you needed her.  I think she had a hard time saying 'no.'"
My personal heartfelt condolences and sympathy to Lee and her family as well as her various community families. Ruth's knowledge, council and advice was always appreciated.
Related:
Crime Stats By District
Columnists