Sister Antonia Klausner, a neighborhood treasures dies at 93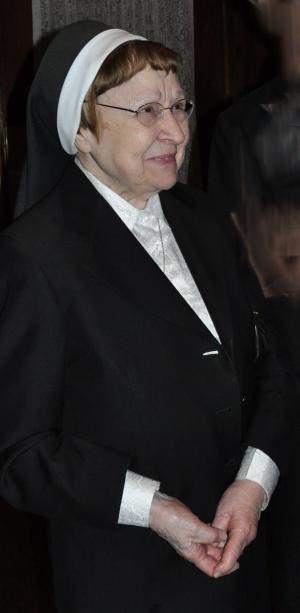 Sister Antonia Klausner, who was in her 77th year of service as a member of the Sisters of the Holy Family of Nazareth and currently involved in fund raising for an auditorium on the Saints Mary and Elizabeth Medical Center (SMEMC) campus passed away on Feb. 4, at the age of 93.
Sister Klausner served as director of the Saint Mary of Nazareth School of Nursing from 1965 to 1986, the school from which she received her nursing education. Her bachelor of science in nursing  was from DePaul University in Chicago and her master of science in nursing was from Catholic University of America in Washington, D.C.
Her current work at SMEMC included preparing the medical center for the accreditation survey process and served as coordinator for the Medical Center to become a Magnet Recognition Program, which recognizes nursing excellence at facilities in the nation.
In the nomination letter for the Illinois Nursing Award (INA) presented to Sister Klausner in October 2011, it stated, "This award recognizes an individual who has consistently contributed to the improvement of adult continuing education and staff development, and taken a leadership role within nursing practice. Sister Klausner has exemplified these qualities through her career and is held in high esteem by those who have worked by her side."
Seen about campus and at many community events, Sister Antonia was an energetic woman scurrying about with determination and a smile. She often said, "I love my work with my heart and soul."  And so she too was loved by members of her community, the Medical Center and the larger community. She will be missed, but her work will speak for her as SMEMC moves forward partially as a result of her efforts.
There will be wake at two locations, both on Fri., Feb. 10: Saint Mary Chapel, 2233 W. Division St. from noon to 2 p.m. and at Provincialate, 310 N. River Rd, Des Plaines from 5 to 8 p.m. The funeral mass will be Feb. 11 at 10 a.m. in St. Emily Church, 1400 E. Central Rd., Mt. Prospect.
Related:
Crime Stats By District
Columnists