Making public spaces beautiful: How to create a global community and a park that works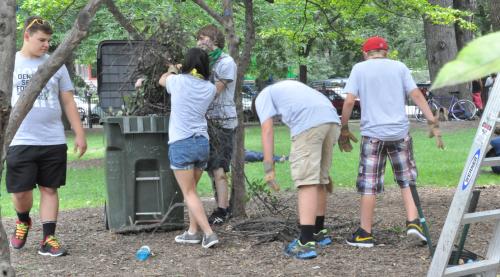 Editor's Note: The beautiful gardens in Wicker Park are planned, funded, created and maintained by volunteers 12 months a year. In addition many of the public events such as concerts, yoga, hooping, Boo-Palooza, Wicker Mic and holiday fountain decorating as well as educational programming such as the garden lecture series and how-to gardening workshops are the result of the volunteers' efforts.
The Wicker Park Advisory Council (WPAC) and Wicker Park Garden Club (WPGarden) constantly work to find numerous resources to create a great park for the neighborhood and for all of Chicagoland to enjoy.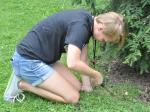 In a time when the budgets of the City of Chicago, Chicago Park District (CPD), and the 1st Ward are stretched beyond their limitations, one must be very creative and resourceful to both create and then maintain excellent standards in landscaping, programming and event development.
Both WPAC and WPGarden have set up partnerships with over 65 city-wide organizations as well as organizations from other cities in nearby states. All the partnerships are designed to provide assets to the park and benefits to the partner's organization and goals.
These partnerships provide a viable, expanded community where all members can create and obtain a sense of ownership and pride. This is not a community in the classic sense, but a global community that has evolved to succeed and produce great parks.
On Saturday, July 26, 81 residents of Goshen, Indiana's Grace Community Church's Youth Group - Axis Youth Ministries came to Wicker Park to freely devote their time to work for four hours in Wicker Park.
They weeded all mulched areas in the park, pruned out dead wood in shrubs and small shrub trees, dug a garden edge ditch along 300 ft. of the Park's gardens, cleaned up trash in and around the Park, cleaned the playground, swept all the loose gravel in the dog park and put it back in the gravel pits, and swept all the sidewalks.
The volunteers were recruited by WPAC's John Shirk, head of Urban Encounter, who acts as an Ambassador to Chicago for Grace Community Church. He worked with me (WPAC and Wicker Park Garden Club) to plan the event and layout the duties that the volunteers addressed. In addition, he placed volunteers in another location on Chicago's west side.
On the day of the event, the teens were directed by adult leaders from their Grace Church and members of the WPGarden and WPAC: Richard Tilley, Jim Angrabright, Betsy Tandy, Denise Browning, Linnea Levy, Adam Housley, Paul Galus, Calvin Johnson II, Peggy Thoma and myself.
CPD provided four shovels and a large dumpster for the waste, Wicker Park's Carhartt provided gloves for all, and the WPGarden provided all the other tools (forks, shovels, rakes, pruners, loppers) and food.
What motivated the group to travel to Chicago to do this?
According to Dan Cosentino, youth minister of the Grace Community Church, "Our goal was to help the city out both with physical needs and spiritual needs. We worked in the Park and then spent about two hours at the Wicker Park Festival talking with people and praying for people as well! Our group was part of a larger conference that hosted 2,100 people at Wheaton University in Wheaton, Ill."  
Volunteers from the church came to Wicker Park earlier this year in May to mulch all the Park's trees.
The coordinators of this event hope that next year, Wicker Park Residents will consider donating their time to work with our out-of-town volunteers or on any Saturday from 10 a.m. to 1 p.m. in our award winning gardens.
Please contact me about volunteer opportunities in Wicker Park.
Our visitors from Goshen, Indiana clearly realized Charles Wicker's moto – 'when something needs to be done – don't wait for someone else to do it for YOU - donate your time and pitch in.'
Photos by Elaine Coorens
Related:
Crime Stats By District
Columnists