Warm weather predicted for 11th Annual Fountain Decorating Social in Wicker Park
Swimsuits may not be appropriate but at least fingers should NOT be freezing at Wicker Park's 11th Annual Fountain Decorating Social, 1425 N. Damen, on Sat., Nov. 22, 9 a.m. to 4 p.m. Everyone is invited for this annual fun event and RSVP is requested.
Each year merriment in Wicker Park at the fountain decorating event ushers in the holiday season for all who participate, sharing their time, talent and food.
Indoors, people assemble various parts of the decorations that will fill the large urns that stand sentries around the fountain and at the huge planters at the entry points to the Fountain Court. "Goat food" is created for around the fountain's lower bowl as well.
Outdoors, evergreen trees are cut up to be used in the urns. Tree tops are arranged in the rose garden where a mini-forest is created. Lights are strung on the top of the fountain, giving the illusion of cascading blue water. The large bowl is encircled in lights and garland, then the "goat food" is hung.
Urn decorating often gets to be a contest..."mine is better than yours"...all in good neighborly fun. Then the lights are added to the urns which are tied with large red ribbons. The end result is a beautiful display that delights all who see it throughout the winter season.
While all are working, carols are playing and goodies help keep the workers energized. Food is another shared experience. Everyone is requested to bring food to share, sweet and savory. Remember to RSVP so enough tools are assembled for all to participate.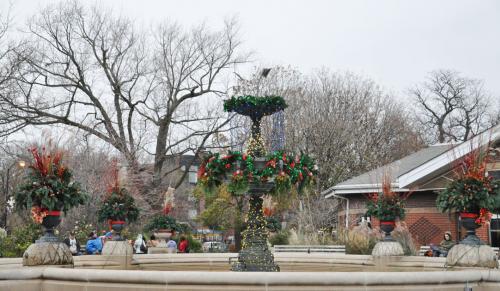 All of this is funded by the Wicker Park Garden Club and presented with the Wicker Park Advisory Council, New City Church (Mosaic Church) and Urban Encounter. And, it is in collaboration with Chicago Park District. Gloves are donated by Carhartt and LED Lights Donated by The Care of Trees.
History Note:
"On September 19, 1870, Alderman McGrath presented and moved for approval of a resolution for Wicker Park improvement. It stated:  "Resolved. That the Board of Public Works be and they are hereby requested to extend the water pipe to Wicker Park, erect a fountain, lay out walks and otherwise improve said park, during the present season, to the extent of its share of the appropriation made for park purposes for the East Division, provided a good and sufficient deed of the same be given to the city for that purpose."
The original fountain that was installed called "Gurgoyle" was  made by the J. L. Mott company. It was removed in 1908. On May 22, 2002, the fountain that stands today, created from the Mott molds, was dedicated.  ..... From the book Wicker Park from 1673 Thru 1929 and Walking Tour Guide .
Related:
Crime Stats By District
Columnists