Be part of creating 2021 Chicago Police strategies for the 12th and 14th Districts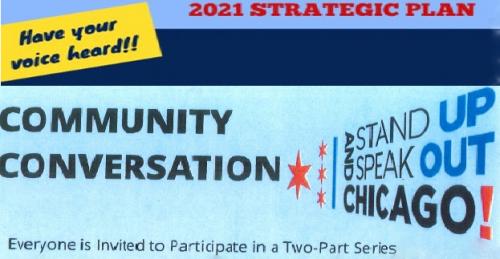 Residents in both the 12th and 14th Chicago Police Department Districts which include Chicago's West Town community as well as part of Humboldt Park and Logan Square can be part of starting the creative process by district for their respective 2021 Police Strategic Plan. The process starts Thursday, Oct. 22, at 6 p.m., virtually.
While it is unfortunate that they are being held on the same night and time and while they are around the Presidential Debate start time, residents have the opportunity to multi-task from their favorite COVID-19 driven virtual Zoom meeting location. 
As pointed out by 14th District's Sergeant Adam Henkels, "The time has come for everyone to start working on OUR strategic plan for 2021!!  It is important that we have diverse input from ALL PARTS of the 14th District: all ages, all economic statuses, all cultures, all beats. We can make this a safer neighborhood for ALL of us when we all have our voices heard!"   
From the 12th District, CAPS Officer Luis Crespo encourages everyone to "stand up and speak out," because the partnership of community and police can make a difference in our neighborhoods. 
Both districts are starting their meeting at 6 p.m. on Thurs., Oct. 22. 
If Thursday at 6 p.m., you are going to be able to connect with the 14th District virtually online register through this link. If you prefer to connect via phone you should call in at 312.626.6799, using meeting ID 941 3157 0155 and passcode 748061 just before 6 p.m. on Oct. 22. 
The 12th District's video connect registration is here. Their voice only call in number is 312.626.6799 with a meeting ID of 933 9560 2903 and a passcode of 990184. 
This is the first of two sessions that will occur for next year's strategic plans. The second in each district will refine that which is determined at the first session and after the Superintendent's team has reviewed all the districts' data gathering on Oct. 22. 
Background
This is the third year that CPD is working to partner with residents and business owners in every district across the City to establish each district's annual strategic plan. 
Though partnerships do not happen overnight, like any major change, it requires a process. That takes time and persistent involvement. Thus, whether you have participated before or not, now is a time to connect. 
Due to the overall changes in CPD this year, 2020's process was not finished. But, here is how it started. 
What participation in these events does for the community and the police is to reveal the multitude of issues each segment has. In addition, participants become enlightened as to issues of other people in their own district. It can lead to community members working together as well as with the police. 
I personally observed that during the first two years, commanders along with others in their districts were impacted by what they learned and took actions based on that information. 
NOTE:
Your comments about your experiences in Thursday's events is important.  Please share them with me. Since both 12 and 14 are happening at the same time, I may not get the full impact and want to make sure everyone gets to learn as much as possible. Send your comments or call 773.235.8688.
Related:
Crime Stats By District
Columnists