Blue Line service interrupted twice -- body found underneath a grate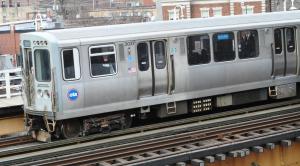 Blue Line service was halted Fri., May 3, twice, once in the morning at approximately 9:40 a.m. and then again about noon. While trains ran between Damen and O'Hare and south of Racine, the Chicago Transit Authority (CTA) provided shuttle service between those stations. 
The police received a report of a body in the subway station at Clark and Lake, 117 W. Lake. At the time the body was found underneath a grate. It was not evident if it was a male or female. 
The Chicago Fire Department removed the body. According to a Chicago Police Department News Affairs spokesman, the person was believed to be a homeless male who used the space as a safety refuge. 
While the service was originally restored at about 10:20 a.m., it was turned off again for further police investigation between noon and 12:20 p.m. This is an ongoing death investigation by the Area Central Detectives.
Related:
Crime Stats By District
Columnists