Bucktown business in rash of business burglaries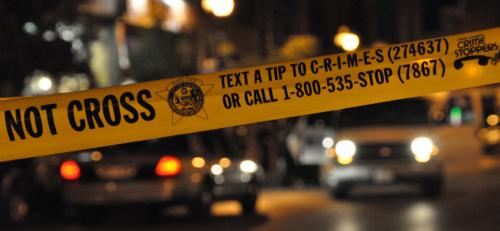 A business in the 2100 block of N. Western Ave. on June 15 at approximately 4:26 a.m. is one in a string of criminal damage business burglaries that began at 3:56 a.m. on June 13. 
Incident times and locations
3400 block of W. Irving Park on June 20 at approximately 2:54 am.
4200 block of W. Division St. on June 19 at approximately 3:00 am.
3400 block of W. Belmont on June 19 at approximately 5:29 am.
2100 block of N. Western Ave. on June 15 at approximately 4:26 am.
5200 block of W Chicago Ave. on June 13 at approximately 3:56 am. 
Entrance into the businesses occurred after an offender shattered the front door of the business with a brick or blunt instrument. Items stolen included cash registers, safes, and money. 
The offender is described as being an African American male of an unknown age between 6' 2" and 6' 4" in height, weighing between 150 and 190 pounds and wearing dark clothes. In one incident, there is evidence of two additional offenders and one vehicle. 
What you can do
Be aware of this crime and alert nearby businesses
Have and maintain a working surveillance system
Pay special attention to any suspicious people or vehicles loitering in the area
Call 911 immediately and provide a detailed description of the offender(s)
including any vehicle description and license plate information
Respond immediately to late night or early morning hour alarm activations 
If you have any information about these incidents, please contact Area North Detectives at 312.744.8263. 
Case numbers are: JC313867, JC313248, JC307175, JC307158 and JC304539.
Related:
Crime Stats By District
Columnists