Burglary at Auldi's on Milwaukee and Leavitt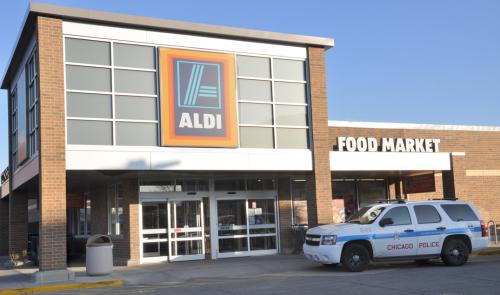 UPDATE: Police response began at 6:30 Tuesday morning and Area North Detectives are working the case. Multiple offenders entered by prying open the back door. They took computer equipment and an unknown amount of cash.
With the pulsating burglar alarm's whirring in the background a lone 14th District vehicle sits in front of the Aldi food market at Milwaukee Ave. and Leavitt St. at about 8 a.m. Tues., Dec. 2, in Wicker Park on the edge of Bucktown. 
According to an officer nothing is known about time or extent of the burglary. An Aldi's employee in the facility refused comment as a Chicago Police Department detective arrived on the scene. 
There are video tapes at the location, according to the officer, and more will be known about time and possibly how many were involved in the crime.
A regular Logan Square shopper from Sacramento Blvd. and Armitage Ave. expressed her surprise as the bright sun belied the freezing cold air. "I shop for little things here and I have time to come here," she said as she hurried off to her next destination.
A Humboldt Park resident, Jose Rios, said that he has shopped at this location for years. "Before it had a makeover," he said with a wave of his hand. "This is the first time I've seen anything like this here. Usually I come with my wife and kids.
Several corporate Aldi men arrived and apologized for giving a "no comment." One did say that the store would probably not open until noon.
Related:
Crime Stats By District
Columnists