Carjackers laid in wait in Pulaski Park murder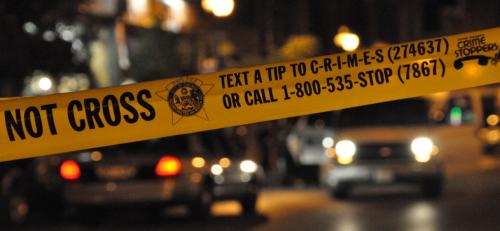 Carjackers were lying in wait in the 1200 block of N. Greenview early Thursday morning. "The car lights were out and the engine turned off," explained 2nd Ward Alderman Brian Hopkins about the attempted carjacking and murder in Pulaski Park, early Aug 10. 
Identified as Jesus De La O-Jimenez, the 28-year-old Hispanic victim received a gunshot wound to the chest which caused the homicide, according to the Cook County Medical Examiner's Office spokeswoman, Becky Schlikerman. 
"Anyone walking or driving by would not notice the two occupants," said Hopkins. "One suspect leaped out of the car and pointed a handgun at the victim, telling him it was a carjacking and to get out of the car. 
"The Infinity car owner panicked and hit the accelerator in an attempt to flee. At that point the offender shot through the closed car window and the car crashed into a car on the opposite side of Greenview." 
Detectives canvased the area for cameras from which they could obtain footage that will lead to identifying the perpetrators. "It was a fruitful day," said Hopkins. "They have some leads." 
Similar incidents have occurred where offenders in other neighborhoods sat after hours in parked vehicles waiting for someone to walk or drive by so they could rob them . However  this crime has not been determined to be linked, said Hopkins. Nor has been a pattern established.
Chicago Police Department's 14th District assured Hopkins that they will be putting out extra patrols to combat these types of issues
Related:
Crime Stats By District
Columnists