Crime in Wicker Park and Bucktown: Perceptions and facts
"Crime here is up tremendously," "There has never been this much crime in our area," "We're not even safe in our homes" say some local residents. Others say, "We have never been more safe." The police say, "We have an uptick in some crimes but actually crime is down." Many residents of Wicker Park and Bucktown are say, "I don't know who to believe.
Perceptions and facts
Perceptions and facts can make it difficult to know what part of the "elephant" you're dealing with and exactly what efforts will be most successful.
Have you ever played the telephone game? One person says something to the person next to them. That is to be repeated continuously around a circle until the message is repeated back to its originator. Generally the returning message is no where near the same as when it started. 
Add the hysteria that can be whipped up on social media and an innocent statement can turn in to some "stop the presses kind of news story."
For example, one person says a beautiful white flower just fell into the yard and it looks like a snowflake. Soon a snow storm is being reported as hitting Chicago in July. Thumbs are flying as some say this snow storm is a catastrophe and it is an indicator of global warming arriving sooner than expected. 
This phenomena of perception producing "alternate facts" and real facts being viewed as non-truths surrounded the topic of crime in the area last year. Since then shocking crimes have been occurring all around the globe and the atmosphere in this country is, all too often, accepting incivility as a way to behave. Locally, crime is beginning to take center stage again in various community organizations.
To assist in these efforts Paul Dickman, long time Wicker Park resident, has helped present local crime stats in a graphic manner below, while this writer has produced charts comparing crime by beat over time.
Perception of local crime
If you, a friend or neighbor has experienced a crime, it is understandable that you may feel that there is a crime "wave." Thus, it may seem plausible that crime is totally out of control right in front of your doorstep.
However, that is not what statistics show in the Wicker Park and Bucktown neighborhoods.
Police coverage
The Wicker Park and Bucktown neighborhoods are covered by the Chicago Police Department's 14th and 12th Districts. It should be noted that in 2012, the 13th Police District merged with the 12th to form a new 12th District.
Both districts have fewer officers than in the past, though the numbers are an ever changing count that began several years ago. 
Maps of the 12th and 14th districts to the right show their geographic diversity. (To enlarge an image, double click on it.)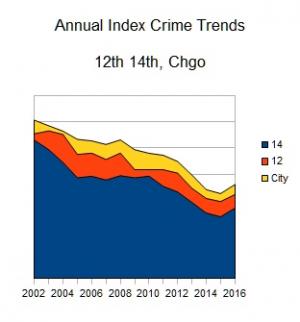 Despite perceptions of many people, crime in both districts, according to the City of Chicago's data portal*, has been going down since 2002.
The Annual and Bi-Annual Crime Trend graphs show the total of indexed crimes in the entire 12th (orange) and 14th (blue) districts since 2002 have mirrored the trends of the City (yellow).
In 2015, incidents took a deeper dip but went back up in 2016. Bi-annually the dip in 2015 smooths out, as can be seen in the Bi-Annual graph.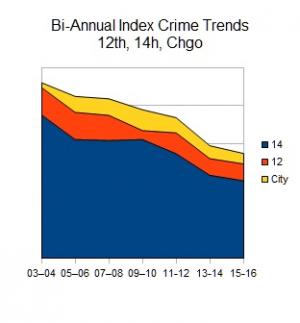 For purposes of the graph, the City area (yellow) was calculated from the total of number of indexed crimes of the City divided by 16. It shows the fluctuation but not the City's total count. These graphics show how both districts and the City trend over the last 15 year span.
Note: when looking at a two-year span, the lines are smoothed out and show a continuous downward trend. 
Beats
To see specific numbers in the area, the beat stats tell the real story. 
Five beats in the 14th District which cover the two neighborhoods are 1424, 1431 1432, 1433 and 1434. Beats in the 12th District cover the southern part of Wicker Park. They are beats 1212 and 1213. 
Incidents
While there are nine crime categories considered to be "indexed," the total number of categories used are 26. For purposes of stats, some are as follows:
Homicide 1st & 2nd Degree (01A) (Index) (Crimes Against Persons)
Involuntary Manslaughter (01B) (Crimes Against Persons) 
Criminal Sexual Assault (02) (Index) (Crimes Against Persons)
Robbery (03) (Index) (Crime Against Property)
Aggravated Assault (04A) (Index) (Crimes Against Persons
Aggravated Battery (04B) (Index) (Crimes Against Persons) 
Burglary (05) (Index) (Crime Against Property) 
Larceny (06) (Index) (Crimes Against Property)
Motor Vehicle Theft (07) (Index) (Crime Against Property) 
Simple Assault (08A) (Crimes Against Persons)
Simple Battery (08B) (Crimes Against Persons)
Arson (09) (Index) (Crime Against Property)
Forgery & Counterfeiting (10) (Crime Against Property)
Fraud (11) (Crimes Against Property)
Embezzlement (12) (Crime Against Property)
Stolen Property (13) (Crimes Against Property) 
Vandalism (14) (Crime Against Property)
Weapons Violation (15) (Crimes Against Society) 
Prostitution (16) (Crimes Against Society) 
Criminal Sexual Abuse (17) (Crimes Against Persons and Society)
Drug Abuse (18) (Crimes Against Society) 
Gambling (19) (Crimes Against Society) 
Offenses Against Family (20) (Crimes Against Persons and Society)
Liquor License (22) (Crimes Against Society
Disorderly Conduct (24) (Crime Against Society) 
Misc Non-Index Offense (26) (Crime Against Society)  
More information about these categories may be found on the CPD Clear Map site. Each district map allows the user to filter the incidents shown in a selected time frame within the last three months. This link will take you to the 12th District map and this to the 14th District map.  
If you are uncertain about the beat number in which you live, use the District map links above and enlarge that map so you can see the beat numbers. Move the map around until you find your location and locate the beat number. The first two digits of a beat are the District numbers.
Comparing 1st quarter crime count figures for 2014, 15, 16 and 17 for the seven beats affecting Wicker Park and Bucktown tell the real story of what crime looks like in the seven beats into which Wicker Park and Bucktown fall.
As can be seen below, thefts are the greatest count of crimes. As has been pointed out by police, local officials and community organizations, some of those thefts can be eliminated if people:
remove valuables from your automobile
lock home and business doors and windows
be aware of your surroundings
do not display your cell phone while walking down the street with headphones on
do not keep car keys in the car with the motor running while leaving the vehicle
Below are the beats shown annually and bi-annually over the 15 years. Each beat is a different color.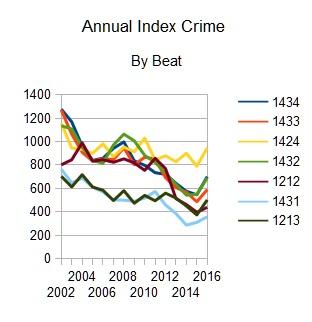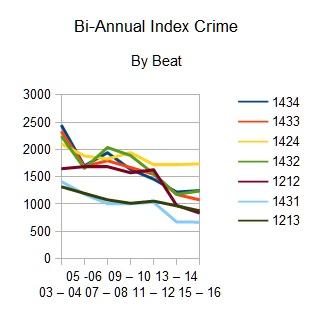 *The data reflects incidents where the police responded and completed case reports. It should be noted that though the police responded to an incident, a case report may not be generated.
Also, this information does not reflect 911 calls for service.
The case crime type classification is based upon information known at the time the preliminary investigation was conducted. It may be revised at a later time. 
Crime classification codes are derived from the Federal Bureau of Investigation's (FBI) National Incident-Based Reporting System (NIBRS). 
Related:
Crime Stats By District
Columnists