On lookout for one suspect linked to eight business robberies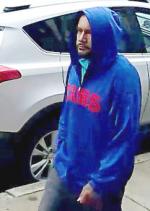 Armed with a knife, a male white Hispanic is being credited with at least eight business robberies since July 28, during which he demanded money. 
Incidents occurred between 9:25 a.m. and 5:30 p.m. Two of the incidents were along Western Avenue. One was in the 1500 N. block and the other on Armitage in the 2400 W. block.  
Described as being between 20 and 37 years old, 5' 10' to 6' 1" in height, weighing between 160 to 220 pounds, with black hair and brown eyes, he is said to have an impaired left eye. In photos he is wearing a blue hooded sweatshirt and jeans.
The string of robberies includes:
4700 Block of West Fullerton Ave., July 28, 5:16 p.m.
4300 Block of South Archer Ave., Aug. 3, 12:20 p.m.
4600 Block of North Western Ave., Aug. 4, 5:30 p.m.
3500 Block of West 26th St., Aug. 7, 12:41 p.m.
2400 Block of West Armitage Ave., Aug. 14, 10:56 a.m.
2700 Block of West Cermak Rd., Aug. 17, 11:10 a.m.
1500 Block of North Western Ave., Aug. 18, 9:25 a.m.
6600 Block of South Pulaski Ave., Aug. 18, 1:05 p.m. 
What you can do
Be aware of your surroundings
Report suspicious activity immediately
Keep doors and windows secured
If video surveillance is available, save and make a copy of the incident for investigating detectives.
If you are a victim do not touch anything, call police immediately
If approached by a witness to the incident, request contact information
If you have any information contact Detectives at either Area Central 312.747.8382 or Area North 312.744.8263 
Reference numbers are: JA367399, JA-375476, JA-377279, JA-381107, JA-390443, JA-394736, JA-396033 and JA-396283. 
Related:
Crime Stats By District
Columnists