Phone store employee stabbed during robbery in East Village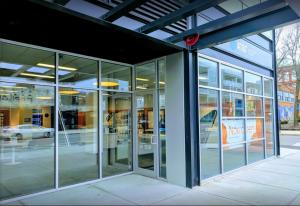 An AT&T store employee was stabbed in the East Village phone store during a robbery Wednesday afternoon at approximately 3:54 p.m. 
Four to five teenage boys grabbed phones from the store displays on either side of the door at 1819 W. Division St., according to a local resident. Those phones are not working phones. 
Apparently the employee, a 27 year-old male, was stabbed as he attempted to thwart the robbery. The stabs were to his abdomen and he was transported to Stroger Hospital. 
Area Central Detectives are investigating and there is no further information available.
Photo: AT&T website
Related:
Crime Stats By District
Columnists