Robber with a knife alert directed at Logan Square businesses from CPD's 14th District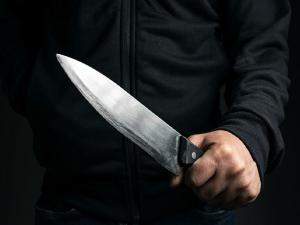 Brandishing a knife, a robber has entered three Logan Square businesses in the last few days announcing that he is going to rob their business, according to the Chicago Police Department. 
Described as being a male African American, the offender is believed to be between 20 and 30 years old, 6 feet tall, weighing 180 pounds with medium complexion and dreadlocks. 
The incidents were:
3100 block of W. Armitage Ave. on July 30, at 9:40 p.m.
3200 block of W. North Ave. on July 31st at 9:50 a.m.
3100 block of W. Armitage Ave. on Aug.1st at 12:45 p.m. 
What you can do
Be aware of this crime and alert your neighbors.
Pay special attention to any suspicious subjects loitering in the area.
Ensure that existing surveillance cameras are functional.
Call 911 immediately and provide a detailed description of the offender(s) including any vehicle description and license plate information.
In these instances remain calm and do not resist. 
If you have any information, please contact Area Five Detectives at 312.746.7394. 
Case numbers are: JD-315687, JD-316045 and JD-317409
Related:
Crime Stats By District
Columnists