Roberto Lopez charged in Humboldt Park bar shooting
Roberto Lopez, 39, of the 3800 block of W. George St., has been charged in the Jan. 27, 12:20 a.m., shooting at Mas O Menos bar, 2539 W. Division St. 
Lopez was arrested in the bar within an hour of the incident and subsequently charged with one count of felony UUW (Unlawful Use of a Weapon)-possess/use firearm, according to Officer Christine Calace, Chicago Police Department's (CPD) Office of Communications.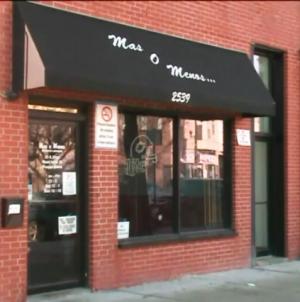 Antonio Reyes, 38, who lived in the 1200 block of N. Campbell, was standing outside the bar at Division near Rockwell when he was shot. Reyes then jumped into his black Toyota in an attempt to drive himself to a hospital, according to a WGN TV report. However he did not make it, crashing his car into a post on the sidewalk. 
Police found Reyes with multiple gunshots to his chest. He was transported to John H. Stroger, Jr. Hospital but was pronounced dead at 1:09 a.m. in the hospital, according to a Medical Examiner's report. 
A second man, 28, was shot in the hip and also transported to Stroger in serious condition. 
According to CPD, both men shot were in a verbal altercation with another man, presumably Lopez, when the shots were fired. 
With the WGN  camera rolling as Lopez was being arrested, he was heard telling police, "I was scared." 
Central Division Detectives are investigating. 
Photos from WGN coverage
Related:
Crime Stats By District
Columnists