Safety Alert: Drivers including bicyclists must STOP for pedestrians. Pedestrians have rules too!
In Chicago each year, 3,000 people are hit by a car. In most of those cases, drivers have failed to yield the right-of-way.
A pedestrian struck by a vehicle traveling at 30 mph has a 55% chance of surviving. The survival rate drops to 15%, if the vehicle is traveling at 40 mph.
What is a crosswalk? It is where there are lines on the street.  Some have short lines running in the direction of traffic between the long outer lines. Others are only long lines. Some have the new stop signs, some do not.
For vehicles, which include bicycles, a stop is NOT required unless someone is in the crosswalk.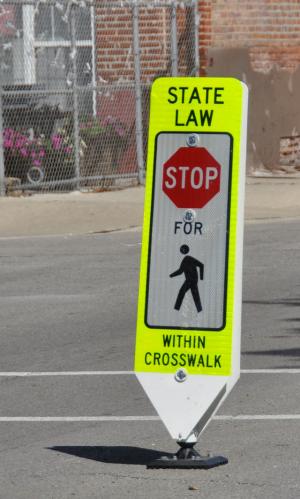 For pedestrians, if you are at a stop light and the light is red, you obey the light and do NOT cross until you have a green light. If you are in a six-corners area, do NOT cross diagonally, follow the cross walks!
According to Illinois law:
Drivers must stop for pedestrians in crosswalks
Drivers may not overtake other drivers stopped at a marked or unmarked crosswalk
Turning vehicles must stop for pedestrians crossing with the WALK signal
When crossing the street, be alert. Use crosswalks and obey all traffic signals.
Chicago's goal is to eliminate pedestrian traffic death in ten years and reduce injuries by 75%. For more information on pedestrian safety visit the Chicago safety website.
Related:
Crime Stats By District
Columnists