Smash and rob at new North Avenue store in Wicker Park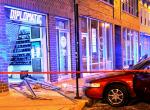 Newly opened shoe and clothing store, Diplomatic, 1750 W. North Ave., had its entire storefront smashed in by robbers with a red sedan in Wicker Park, Mon., Sept. 18, at approximately 3:27 a.m. 
Several offenders took merchandise from the store then fled in two dark-colored sedans, according to the Chicago Police Department's News Affairs report.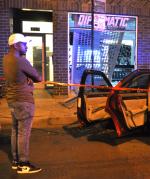 Amid the crumpled storefront frame and shattered glass, an evidence officer was at the scene as the store owner, Brian Heath, stood and watched, appearing to be in shock. 
Once many businesses along the street are opened, it is expected there will be video of the incident available to 14th District officers and detectives.
Area North detectives are investigating.
Related:
Crime Stats By District
Columnists