Special CPD Units took 12 into custody for drug and gang activity in Wicker Park that aided in 33 arrests Wednesday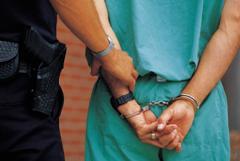 Special Chicago Police Department (CPD) Units executed a roundup in the 1400 block of N. Damen recently which resulted in the 12 people taken into custody, including two who had arrest warrants.
Information from that roundup aided in a 33-person take-down Wed., Oct. 9, according to Captain Marc Buslik, 14th Police District. 
The 12 taken into custody relative to Wicker Park area drug and gang activity were not tied to the Milwaukee Ave. shooting or the Wicker Park shooting. While those two shootings involved gang members, they were not gang-against-gang conflicts. They were between individual gang members. 
"There is no huge drug or gang presence in the Wicker Park area," explained Buslik. "We believe that the Wicker Park area arrests will shut down the drug trafficking that has been going on in the Damen area. However, drug sales are like legitimate business. Where there is an interest, a market will establish. We try to keep one step ahead of that." 
The Wicker Park roundup provided information that aided in a major pre-dawn enforcement roundup yesterday. Chicago Police officers, DEA Agents and additional State and Federal partners arrested 33 individuals with alleged ties to the Imperial Insane Vice Lords, a violent, drug trafficking street gang. Ten defendants who allegedly directed or participated in the gang were charged in a federal racketeering conspiracy (RICO)* indictment for their roles in a series of violent crimes including murder, attempted murder and assault with a dangerous weapon, as well as distribution of controlled substances. 
Street level drug dealers near North and Damen were part of the CPD Narcotics Division's targets. These street level dealers were supplied by the gang hierarchy. Other targeted dealer locations were in the areas of Augusta and Ridgeway, Division and Pulaski and Huron and Cicero. 
The RICO conspiracy includes allegations that the Imperial Insane Vice Lords and their associates operated open air drug markets at various locations throughout Chicago, including the "Keystone Drug Market". The open air drug market at Thomas and Keystone was bounded by Division Street to the north, Pulaski Road to the east, Augusta Boulevard to the south and Keystone Avenue to the west. 
"Today, these dangerous criminals face serious time in a federal prison, and ten of the criminals face federal RICO charges for their role in the gang," said Police Superintendent Garry McCarthy. "This case is an example and should serve as a warning. Make no mistake, we stand here today with a clear message to those who bring violence and crime to our communities – we will do everything in our power to hold dangerous criminals accountable for the crimes they commit." 
What ended up as a major multi-agency enforcement operation began as an investigation with personnel assigned to the CPD's Bureau of Organized Crime's Narcotics Division. Officers assigned to intercept and prohibit gang controlled street level narcotics sales initiated this investigation. As the investigation progressed Drug Enforcement Administration (DEA) agents and CPD Task Force Officers assigned to the Chicago Strike Force partnered with CPD Narcotics and Gang Investigation personnel to take this case to the next level and into the Federal arena. 
The Chicago Strike Force, which is part of a sustained, coordinated effort by federal law enforcement agencies, working together with the Chicago Police and other state and local departments, to disrupt Chicago's sophisticated, often violent, drug-trafficking organizations operates under the umbrella of the U.S. Organized Crime Drug Enforcement Task Force (OCDETF). The Strike Force helped bring the investigation to its successful conclusion and was integral in securing federal charges. Also participating in this investigation were the Federal Bureau of Investigation; Internal Revenue Service Criminal Investigation Division; Bureau of Alcohol, Tobacco, Firearms and Explosives; U.S. Marshals Service; the Department of Homeland Security, the United States Attorney's Office for the Northern District of Illinois and the Cook County State's Attorney's Office. 
This latest round of charges is the third. The first was in Jun 2012 and the second June 2013. Through the course of this operation and the utilization of a broad range of investigative techniques, every level of this criminal street gang's membership has been identified, from street level workers to the so-called "king." The federal indictments allege that the members and associates of this criminal street gang enriched their leaders and members through illegal drug-trafficking. To achieve that end, the charges allege that the gang demonstrated a callous disregard for human life and the well-being of the communities in which they operated; using violence and murder to protect their power and advance their criminal enterprise. 
*RICO: Racketeer-influenced and Corrupt Organizations Act (RICO)is a complicated, federal law initially created to assist law enforcement's fight against organized crime.  It was used against Governors Ryan and Blagojevich in their public corruption cases. It is also used to combat street gangs.
Related:
Crime Stats By District
Columnists