Woman wanted in attempted armed robbery on Chicago Avenue
In the 2300 block of W. Chicago Ave. on Feb. 8 at approximately 1:10 p.m., the woman in these photos entered a cell phone business and started a conversation with the employee. 
In a note to the employee, she said that she was armed with a gun and demanded products and cash. She exited the store, fleeing west. 
The offender, described as an African-American with bright blue in her hair,  is approximately 18 years old, 5' to 5'4" tall and weighing between 140 and 160 pounds.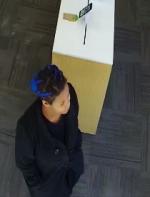 What you can do
Be aware of this crime and alert other family and friends who live in or frequent the area
Be aware of your surroundings
Remain calm, If confronted by an assailant
Never pursue a fleeing assailant
Provide the information to the police.
If approached by a witness to the incident, request their contact information.
Call 911 immediately and provide a detailed description of the offender.
If you have any information about this person or incident, please contact Area Central Detectives at 312.746.7066. The reference number is JC-144803.
Anonymous Tips may be submitted online.  
Related:
Crime Stats By District
Columnists