Wood Street Police Station -- 13th District appears slated to close in Mayor's to be released proposed budget
Despite the efforts of local residents before, during and after the Monday night rally to save the 13th District Station, it appears that Mayor Rahm Emanuel's proposed budget to be distributed Wednesday at a special City Council session will include plans to close the fifty-one year old Wood Street Station, 937 N. Wood, as well as Belmont District,
2452 W. Belmont Ave., and  Prairie District, 300 E. 29th St.
Though police station closings are part of this proposed budget, most alderman indicated that they have no details of the proposed cuts. Apparently Emanuel's budget needs approximately $636 million in expenditures cut to bring it into balance. Many aldermen were particularly concerned because in Tuesday meetings about the soon to be released proposed budget, there was no mention of the police and fire station cuts.
While 13th District community members are concerned about loosing police presence and relationships built over years, they are fearful that police response times will increase. On the other hand, the Mayor is looking at the efficiencies of running one of the nine oldest police stations in the city. The Mayor has also indicated that the 13th is an area with reduced crime, indicating resources are needed elsewhere.*
At the Rally, Alderman Proco Joe Moreno, 1st Ward, said that he has told the Mayor "not to punish this area for being successful (with reducing crime) by tearing down the station. Have a plan for us. This isn't the best station in the City.  I get that, I think we all get that. But what is the plan? I haven't seen one yet.
"If the plan is to remove the station. I'm against that. If the plan is to replace it, I support that...We'll save this station." There is no indication that the proposed budget has any monies for replacing the 13th District Station.
Also at the rally was a forty year retired police veteran from the 13th, Julio Lucotti, Jr. He reminded the crowd that there had been two previous attempts to close down the station.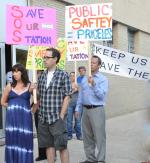 "Not only is the station a beacon of light for the neighborhood but  it also honors three police officers who gave their lives for the city. (Joseph Kelly in 1975, John Martin in 1990 and Michael Ceriale in 1998)...The mayor should think twice before tearing down this station and making it an unsafe haven!"
Anne Shaw, the Rally organizer, asked the more than one hundred and fifty people to sign petitions, send letters and emails and to contact aldermen, chambers of commerce and the Mayor in person or on the phone. An onllne petition can be signed
here
.
The 13th district boundaries are Division to Madison and Kedzie to the River, including parts of seven wards. (1st ward Alderman Moreno; 2nd Ward Robert Fioretti; 26th Ward Roberto Maldonado; 27th Ward Walter Burnett, Jr.; 28th Ward Jason Ervin; 32nd Ward Alderman Scott Waguespack; and 42nd Ward Brendan Reilly.
*Recent gang activity has community members working with local police.
For more informations: 13th Rally, CBS, Chicago Tribune other cuts, FOX on cuts
Related:
Crime Stats By District
Columnists