Alderman Hopkins denies demolition of former Ukrainian Dairy with support of other aldermen
Alderman Brian Hopkins, 2nd Ward, denied the demolition permit of the historic property at  1936-44 W. Augusta Blvd. at the Chicago's City Council meeting today. Supported by a voice vote of the other Aldermen, he was following through on his commitment to  members of the East Village Association (EVA) and other community members. 
Most recently home to Leona's restaurant, the property became Chicago's only Ukrainian Dairy in the early 1900s and is believed to be the only vestige of the dairy industry in Chicago's early twentieth century. 
"This is huge win for the community, and for preservation efforts. I am grateful for Alderman Hopkins' consistent and courageous efforts to save an historic building that serves to remind our communities and our city of its past," says Neal McKnight former EVA President. 
Hopkins attended EVA's last membership meeting to talk with the community about this project. He explained that members of his staff had joined other community members in searching for documentation to support the fact that this property is historically significant and should be saved, though it was left out of the East Village Landmark District, labeled as "non-contributing."
Architect and EVA member Scott Rappe was elated by the news saying, "Congratulations to the Alderman and thank you. This is such a hopeful action for the community and we are so appreciate that he came to the Landmark's Commission hearing and testified in person, even thought they turned down the request to stop the demolition. 
"It is wonderful for the community to have his support. It makes me feel much better and I am encouraged." 
Ward Miller, Executive Director of Preservation Chicago said, "I think land marking empowers a community. Buildings tell great stories. Communities stand up and see how import it is to group contributing and non-contributing structures to show the cherished aspects of our city. It is clear that some non contributing do have aspects that tell the greater story. We should be re-looking at integrating some of them into landmark districts. Landmarking is a useful tool for planning healthy communities."
Space Architects are expected to be the architects for the project but did not return our calls. Michael Lerner's MCZ Development owns the property.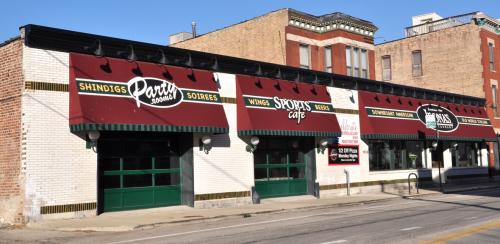 Related:
Crime Stats By District
Columnists