Bricks tumble from historic building facade on Milwaukee Ave. in Wicker Park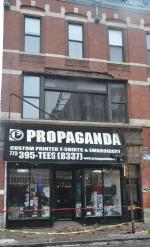 Bricks tumbled from above the awning of Propaganda T-Shirts, 1420 N. Milwaukee Ave. in Wicker Park, early Sunday morning, Feb. 10. In Chicago's Milwaukee Avenue Historic Landmark District, the historic property is owned by Harry James Management (HJM).
Maintenance man for HJM was contacted around 7 a.m. and the police department were notified about an hour later. No one was injured.
Sitting in his pickup truck across from the building, Charlie, the maintenance man, was waiting for the scaffolding company and insurance people to arrive. With HJM from their first building, he indicated that they now have over 400 properties.
The business was founded in 1994 and James Seidenberg is its president.
Related:
Crime Stats By District
Columnists