Changes at Preservation Chicago: Jonathan Fine leaves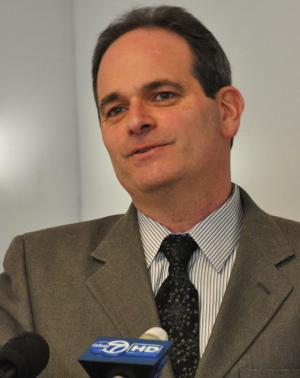 Jonathan Fine, head of Preservation Chicago (PC) since it began in 2001, leaves his position as Executive Director. As he said in the announcement, "Being a preservationist is hard…but it's been a great run." 
Fine, who was a residential architect for 20 years before putting his career on temporary hold in order to establish the position of Preservation Chicago's first Executive Director, guided a feisty grass roots volunteer group into a professional entity that has had many successes. 
Two of the big campaigns included being instrumental in getting the Demolition Delay Ordinance passed in 2003 and the preservation of the old Cook County Hospital building, where they fought alongside of Landmarks Illinois. 
They helped get neighborhoods and sections of neighborhoods and streets designated as historic districts, saved buildings from wrecking balls and engaged more people in helping to save, at least some of our City's architectural treasures.  Included in that list are The Milwaukee Avenue Commercial District, the Arlington Deming District, the East Village District, Ukrainian Village, the Newport District and the Surf Pine Grove District. 
Preservation takes persistence, constant watchfulness and energy. Most warriors, regardless of the topic, become battle weary at some point. One event becomes the tipping point to get them off the battlefield, for awhile at least. Bertrand Goldberg's Prentice Women's Hospital is possibly Fine's tipping point. PC identified the possible war for the building in 2003 and named it one of their most Threatened Buildings of 2004. The war was lost this year. 
Preservation Chicago was part of the Save Prentice Coalition that included Landmarks Illinois, the National Trust for Historic Preservation and the Chicago chapter of the AIA. The organization spent the better part of two years advocating for the 1975 cloverleaf masterpiece designed by Bertrand Goldberg. Fine's view is that it was "a campaign for the textbooks. We reached out to every media outlet, created a worldwide network of supporters and produced a stellar set of redevelopment plans, but the city just wasn't interested in saving it" 
As Scott Rappe, East Village architect who served on the PC Board, said during testimony at the Prentice hearings, "Chicago tears down better buildings than other cities preserve.." 
"Every minute was worth it" said Fine. "Preservation is a vital element to any vibrant city and it has been an honor and a privilege to be able to play a role." 
Fortunately for preservationists and the City's heritage, there are those still willing to fight the wars. One has been serving as PC's Board President, Ward Miller. He will assume the position of Acting Executive Director until a search can be done for a permanent replacement. 
The organization still has numerous issues on its agenda, including the effort to preserve St. James Church, the Julia C. Lathrop Homes and the battle to preserve and re-purpose 50 Chicago Public School buildings. But Preservation Chicago has no shortage of passionate and committed preservationists who are ready to step up to the plate and lead. 
Fine noted that "what's important is that we built a strong brand. And it's always been my hope that Preservation Chicago will still be here in 50 or 100 years fighting for buildings that have not yet been built."
Related:
Crime Stats By District
Columnists