The question is...demolition for 1881 structure in Wicker Park's Milwaukee Ave. Landmark District: Yes or No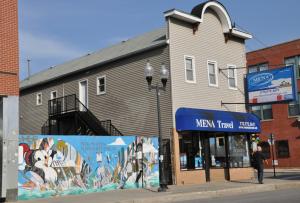 Part of the Milwaukee Ave. Historic District, the 1501 N. Milwaukee Ave. property, under contract to Lipe Properties, is on the Oct. 3 Agenda for the Permit Review Committee of the Chicago Landmarks Commission. Lipe has asked for a review to determine whether the building may be demolished.
As owner of the 1505 N. Milwaukee Ave. property, he prefers to be able to demolish 1501 and increase the size of the building which he is interested in building at 1505. 
Wicker Park Committee's recommendation
The Wicker Park Committee (WPC) sent an official letter against the demolition of the building, built in 1881, to Eleanor Gorski, head of the City's Historic Preservation Division. 
In part it reads, "The [WPC Preservation and Development (P&D)] Committee considers the building at 1501 N. Milwaukee to be a contributing structure [to the Landmark District] and opposes any demolition of the structure," 
Substantiating that statement is an Appendix, "Historical Commentary," by Paul Dickman, member of the P&D Committee: 
"Chicago's mercantile history is one older than the city itself. It is trade that brought DuSable here. It is trade that brought Kinzie here. Through a large portion of that history, the balloon frame boom-town style storefront building was a common sight. The building at 1501 N. Milwaukee is the sole remaining example of this style of architecture in the Milwaukee Avenue Historic District. 
Certainly, this building does not exhibit fine detailing in brick, stone or terracotta, but as one of only two historic frame buildings in the district, one would not expect that. Those attributes do not constitute the minimum requirements for inclusion into the District, instead they list the median characteristics. This building falls outside the median. This building is, however, representative of important periods of Chicago's development and is a fine example of American commercial architecture from the late nineteenth and early twentieth centuries.
The architectural integrity is hard to assess. The building is covered with at least 1 ½ inch layer of siding materials that obscure all of the historic surfaces, save the Palladian arch that caps its false front and the remaining Italianate brackets. Its storefront is not original, but storefronts have always been subject to the whims of fashion. Although there are historic storefronts in the district, we suspect that only the Northwest Tower Building (built in 1928) still sports the street level mullions it had when it was built. 
The interior has been altered, but interiors are not considered a significant feature in this district and are not our concern. What we do know is that the replacement windows are in the same position as historic windows and are smaller than the originals. This suggests that they may have been installed inside the historic window jambs. We also know that the built up siding is sufficiently thick to have made it counterproductive for the installers to remove any but the thickest portions of window trim. 
In response to the applicant's argument for demolition, any structural issues are poorly documented. Damp basements and crooked floors are not exceptional in old buildings. The sagging cornice is clearly the fault of a poorly engineered sign support. The makeshift structural repairs are most likely supports left behind from the 2010 foundation repairs and a photograph of a possibly rotted stud next to recently replaced bathroom floor and plumbing, leads us to suspect a maintenance issue rather than systemic decay. 
Zoning and marketing aspects should not be concerns in a determination of contributing status, but in response to the applicant's arguments we would like to point out a few errors. The building, as it stands is already compliant with the City's pedestrian streets ordinance. It is adjacent to the right of way and 60% of the street-facing building facade between 4 feet and 10 feet in height is comprised of clear, non-reflective windows. The buildings ground floor is approximately 3 inches above the existing sidewalk and is already accessible via a short ramp. 
In short, floors can be leveled, siding removed, and rotted boards can be replaced. What cannot be replaced is this fine example of Chicago's early commercial architecture." 
Lipe's view
Steve Lipe's, Lipe Properties, preference is to build one structure spanning both properties. 
"We believe that what we are proposing is a first class development," said Lipe. "That is an important corner, as one property, they [1501 and 1505] could be better than as separate buildings. 
"We are committed to work with the neighborhood group, if we can reach compromise that would mitigate the hardship of reconstruction to historic standards. 
"There is no ability to rehab 1501, but we are open to restoring the building, but to what? A photograph taken more than 60 years after it was built does not show what the building originally looked like. Who knows how it was modified prior to that photo." 
Chicago Landmarks
"We have done a great deal of research on this property," says Gorski. "Historic evidence includes Sanborn maps, physical scars on the building and old photos. The storefront is different, more forensics work is needed. One can use similar existing buildings and historic streetscape photos to put in a compatible storefront to scale with appropriate materials." 
"The last wood frame building in the Milwaukee Avenue District, 1501 is critical in telling the story of the District. It connects the era of the Plank Toll Road, previously an Indian Trail, with development of the commercial strip that has served the northwest side of Chicago since the 1880s," comments Ward Miller, Preservation Chicago. "It is one of the few commercial strips in the City that links the beginning of Chicago with the Chicago of today." 
Landmark Preservation Council of Illinois
"In historic districts we see buildings altered over time of 75 and 100 plus years. That is the point of an historic district," comments Lisa DiChiera, Landmark Preservation Council of Illinois. 
"To keep overall character and scale of a community style intact, many financial incentives are given for creative solutions. That is the way city land use policy makes sense." 
Real estate facts
"Side by side properties give a developer an exponential value to properties," explained Greg Nagel, Ask Nagel Realty LLC, who is also a developer. 
"I am neither supporting a teardown or restoration, I am saying this from a pure dollar and cents perspective. 
"Side by side properties are a windfall that has a profit impact of 25 to 30% for the developer," 
Next step
The Oct. 3 meeting of the Permit Review Committee of Chicago Landmarks Commission is scheduled for 1:30 p.m., following the full commission meeting.
This writer is a member of the WPC P&D Committee but was not present at the Sept. 17 meeting.
Related:
Crime Stats By District
Columnists