Resurrection University's move to Wicker Park brings excitement and opportunity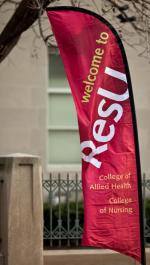 An exciting future for health career students and the community has begun for the 99-year-old Resurrection University as it moves into the more than 80-year-old St. Elizabeth Hospital building, 1431 N. Claremont Ave.
Having renovated four plus floors to leed certified standards, ResU occupies 40,000 square feet in the 10-story Art Deco building.
Resurrection University's move to Wicker Park is producing wins to at least the 10th power.  It is:
impacting community economics for businesses, real estate and jobs
preserving an orange-rated historic structure
recycling an existing structure with imaginative reuse
creating a sustainable leed certified building adding positively to environmental impact
increasing people traffic and extending area security
providing expansion opportunities for the university
providing the healthcare industry with additional personnel resources
providing a resource for training existing personnel in higher levels of education
enriching the student experience with expanded educational facilities and community environs
providing role models for professionals and high school students in the area
History
This health system owned university began in 1914 as a College of Nursing diploma program affiliated with West Suburban Hospital in Oak Park. About to celebrate their 100th year of continuous operation next year, there have been changes that have included partnerships with Wheaton College and Concordia College.
Like the changes in the health care field, ResU continues to grow and change as does the building into which they have moved. As renters in St. Elizabeth Hospital, they share some spaces with the hospital which continues to have some working departments with patients. The plan is for the University to expand into more of the building as it grows and the hospital departments merge with the St. Mary's campus of Presence Saints Mary and Elizabeth Medical Center on Division St.
Offerings
Focused on training health professionals in the upper division (only juniors and seniors), there are approximately 50 staff members, at least half of whom are faculty. Increased enrollment has required an annual 30% faculty increase for each of the last two years. With a large class having graduated in December, enrollment is currently at approximately 460.
The University currently has two colleges. The College of Nursing and the College of Allied Health. Accreditations required to operate are:
Regional with higher learning
The Department of Education with the title-4 program which is student financial aid.

Specialty accreditation
Commission on Collegiate Nursing Education and on Feb. 7 should include Health Informatics and Information Management.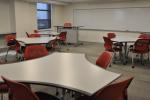 State authorization
The Board of Education allows them to award degrees and operate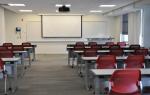 ResU confers undergraduate and graduate degrees to a student population whose average age is 31.
Goals and Challenges
Beth Brooks joined ResU as its interim president in January 2011 and was named their President that October. In that timeframe, she took the University through a major reorganization including new by laws, incorporation and a new board.
"Our student body has a great deal of diversity with a high grade point average and English as their primary language. Dedicated to their education, they achieve a degree in 16 months, which took me 2.5 years to acquire," Brooks explains. She holds a bachelors' degree in nursing, a masters in nursing administration and a Ph.D in nursing sciences.
"As we grow the challenge is to maintain the high quality of students and faculty. On the faculty side, we can offer individuals almost a free education to achieve their higher degrees but their annual salary in academia can be less then the $60-70,000 salary offered in industry."
Future
There is an industry initiative to have 80% of the nursing force with a bachelor's degree by 2020. Currently only 40% of the force holds such a degree. This market challenge is working in ResU's favor. In addition to individual's making the decision for higher levels of education, health systems are interested in meeting the industries' goals. They are look at partnering with ResU to provide degree training on site in their facilities.
"It takes a lot of time and red tape to put such a program in place, but we are hoping to have our first one in operation by this fall or early next spring," says Brooks. "Once that program is in place, we will look to see what other development needs there are and add to our offerings."
Though growth is not on her agenda for this year as they settle into their new headquarters, Brooks has her eye on a very bright future for Wicker Parks' new resident.
Related:
Crime Stats By District
Columnists