St. Boniface's teetering survival may be secured Tuesday
UPDATE
Court case delayed until end of August.
Monday, was to be the day that Michael Skoulsky, Stas Development, Inc., was to complete his first step toward ownership of East Village's historic St. Boniface Church and property, at Noble and Chestnut, for an adaptive reuse development.
But, as he prepared to go to the bank, he received a call saying that people were outside the church and were going to be bringing in a big crane to demolish it. 
Arriving at the site, Skoulsky explained that the building is not to be torn down. Representatives from Crunch Demolition said that they had their orders. Furthermore they would not reveal who set up the demolition. 
Property owner, Phil Moeller, Carefree Development, assured Skoulsky that it was not he and that he would try to find out who did. 
Those on board with the Stas plan are Phil Moeller, property owner,; Chicago Academy of Music (CAM), project partners with Stas Development; the City; Neighbors of St. Boniface (NOSB); East Village Association (EVA); and Preservation Chicago. 
Skoulsky had a check ready to take to the Forest Park bank. The bank sent over a contract. It stated that once he signed it, all money he put toward the $1.4 million indebtedness would be non-refundable and they wanted it signed today. 
Expecting that the contract would be a standard one that gave both parties' attorneys up to five days to work out the details, he was surprised when he realized the ramifications of signing the contract their way. 
With partial payment, the bank could sell it out from under him after he put down a sizable amount of earnest money.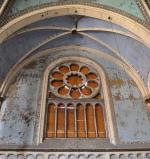 Skoulsky worked diligently over the last couple of months to develop a plan and bring all parties together, including the City. He succeeded. 
Yet by Monday's mid-day, the entire project was teetering on the brink of demolition. 
It was learned that, indeed, the bank sold the debt to Brian Duggan of Guardian Capital. "This was a surprise and a disappointment," said Miller. "However, along with the Chicago Academy of Music, we were able to get the City to put a hold on the demolition for several days." 
According to Skoulsky, he has everything in place to end Tuesday as the property's owner. 
This anticipated happy ending was about sixteen years in the making.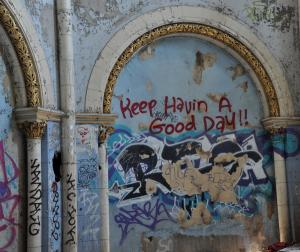 It took the perseverance of many in Chicago's West Town and beyond to preserve and keep alive at least part of the community's rich architectural history. A history that can tell of cultures that brought great diversity to Chicago's neighborhoods. Future generations will be richer in cultural experiences thanks to these efforts. 
The many people to be thanked, according to Skoulsky, include: Bob Zwolinski, Ward Miller, Phil Moeller, Mike Dotson, Kevin Stawiarski, Jim Boccarossa and Mike Vasilko. 
Related:
Crime Stats By District
Columnists