Experience Chicago's Chili Cookoff Month with Veggie Chili recipe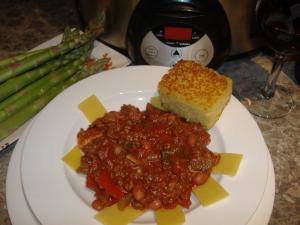 With numerous Chili Cook offs from Time Out to the Liar's Club February is unofficial chili month here in the Windy City.  So grab your knife and get chopping. This veggie chili recipe is super easy and has so much flavor you won't miss the meat. 
Ingredients: (Serves 6-8)
2 Tbsp. Olive Oil
1          poblano pepper
½         green pepper
1          red pepper 
½         large onion (white)
5          Tomatillos
2          large cans crushed tomatoes
2lbs      ground soy crumbles
½ lb      ground soy sausage
1c         red wine
1c         water 
1/2c      instant mashed potatoes
3          cloves garlic crushed
1          large can beans (pink 32 oz.) 
1-2 tbsp. ground cumin
2-3tbsp. chili spices* (I prepare this ahead of time in ½ cup increments recipe below) proportion variations primarily are to account for taste & produce size. 
16oz.    Egg Noodles (follow package directions)
Directions:
1) Remove stems and chop peppers, onion, tomatillo (either by hand or in a food processor) 
2) Put chopped veggies in slow cooker with tomatoes, soy ingredients, red wine & water  cook for 5 hours on low (my slow cooker has a warming feature that will keep dinner warm until I get home. 
3) after 5 hours or upon arriving home add mashed potatoes, garlic, beans & spices to slow cooker 
4) Boil up the noodles & serve up the chili over them. 
Enjoy the rest of the bottle of wine with dinner. 
*

Chili spices recipe for ½ cup

: 1oz.      ground chili powder1oz.      paprika2tsp      ground black pepper2tsp      sugar2tsp      dried oregano1tsp      thyme4 tsp     salt
Related:
Crime Stats By District
Columnists