Grilled Pork Chops with Roasted Peppers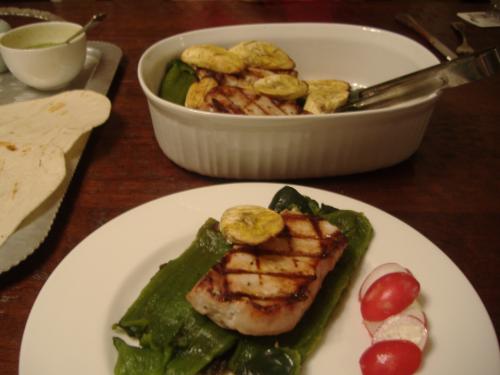 Savor your last days on the grill with this quick meal.
Ingredients:
4 thick cut pork chops (3/4 inch or thicker)
2 large peppers (red or green)
Directions:
Grill chops on medium to low heat 7-8 minutes per side
Place whole peppers on grill next to chops,
turning to get an even char on all sides.

Remove chops & peppers from grill.
Remove skin, seeds and quarter peppers

Enjoy chops over peppers!

Prep Time: 10 minutes
Cook Time: 20 minutes
Yield: Serves 4

If you have some extra time try adding this chutney to the mix.
Mango Chutney
1 mango
2 medium tomato
º cup Cilantro_
Red Onion
1Tbsp. lemon juice
dice, mix and let stand 15 min. before topping grilled chops.
Related:
Crime Stats By District
Columnists