The Joy of Eating, discovering your inner chef
After developing first name relationships with local delivery folks throughout my 20's I discovered the space in my condo that stored my refrigerator (whose sole purpose was to keep my leftover takeout containers) also housed something called a stove, known to me then as a sock dryer.

In 2005 I started exploring what was possible in the kitchen and found I was very good at writing recipes. With some planning I could prepare tasty, healthy meals on my own without ever having to pick up a phone.  Over the next 3 months we'll be exploring 12 seasonal recipes to get those ovens burning.  As we explore making food great send me your thoughts and questions on the Joy of Eating.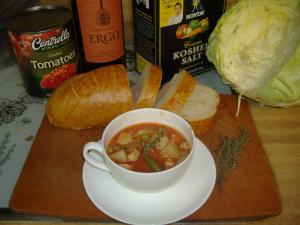 Manhattan Clam Chowder  (Serves 4-6)
This twist from across the Hudson River is from my grandmother, who owned a deli in Patterson, NJ.  During Lent she sold this chowder in the deli Friday afternoons to rave reviews from her patrons.
Ingredients:
¼  small Cabbage shredded
2   potatoes diced
3   small cans minced clams w/ juice (6.5oz "tuna" can size)
2   cups frozen "mixed" vegetables 
1   pinch thyme ( 2 fresh sprigs or 1/8th teaspoon dry)
2   can tomato soup (10.75 oz condensed) + 2 can water
1   28 oz can crushed tomato + 1 can water
    Salt & pepper to taste
Directions:
Combine Tomato soup, Water, Clam juice only cabbage and potatoes
Bring to simmer for 20 minutes 
Add rest of veggies, crushed tomatoes, thyme & clams 
Bring back to a simmer 
Remove from heat & Serve with crusty bread!
(For a tasty variation add 1 lb stew meat browned in drippings from 4 slices of bacon)
Editor's note: You are encouraged to try Paul's recipes and tell us about your experience.  Maybe you have your own twist that you would like to share.
Related:
Crime Stats By District
Columnists