Learn the Art of Assembly from Chef Susan Goss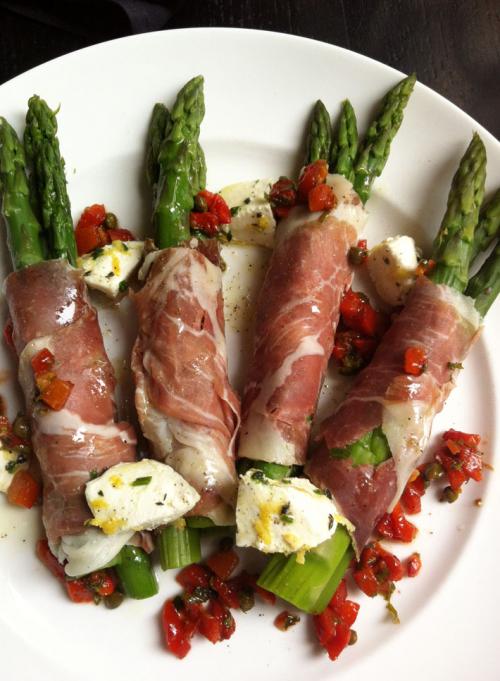 As a professional chef, one of my skills is recipe writing. A restaurant needs standardized recipes in order to turn out consistent food day after day, but at home I am more of an assembler. 
Oh sure, I use recipes on occasion—when I want to make Indian, Thai or other ethnic dishes or when I am testing recipes for a cookbook or news article—but mostly I look in the fridge and see what is available. This is actually more of a skill than the recipe writing. To be able to assemble on command, you need to have a myriad of flavor combinations stored in your head, ready to be called on at a moment's notice.
Recently I found myself needing to assemble an impromptu appetizer for some unexpected guests. A quick look in the fridge showed me some easy options. (This is another skill: keeping a stockpile of shelf stable and refrigerated items you can reach for spontaneously.) 
I had a dozen asparagus spears, Benton's country ham (like prosciutto but better because it comes from Tennessee), good mustard, lemons, limes and oranges, roasted red peppers, capers, Kalamata and oil cured olives, hard-boiled eggs and a couple of cheeses including some fresh mozzarella. I had fresh herbs in pots and EVOO and a selection of vinegars.
I put some salted water on to boil and snapped the ends of the asparagus spears. Next I grabbed the fresh mozz and cut it into cubes. 
I sent one of the guests into the living room to snip some rosemary and chives while I blanched the asparagus. The minced fresh herbs went into a bowl with the fresh mozz, a glug of EVOO, salt and pepper.
The country ham was already thinly sliced so I put a slice on the cutting board, added 3 stalks of asparagus, some salt and pepper and rolled the ham around the asparagus.  I repeated that assembly with 3 more slices of ham and the remaining asparagus. 
After arranging the rolls on a platter I added the marinated cheese and scattered chopped roasted peppers, grated lemon zest and capers around. Voila! Restaurant-worthy snacks in less than 15 minutes. 
Learn the art of assembling and you won't have to always rely on your recipes. 
Click here for more recipes from Susan
Related:
Crime Stats By District
Columnists