Sausage and Tamale Eggs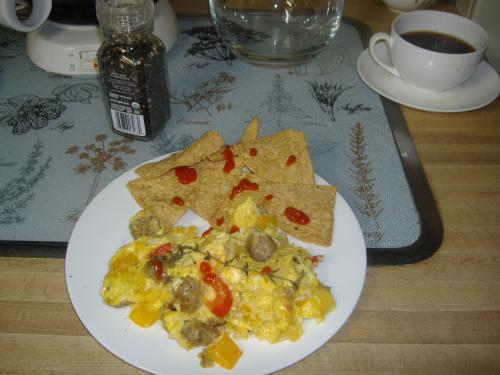 This is a Saturday morning brunch dish that is an homage to Claudio The Tamale Guy. In case you didn't know, Claudio delivers piping hot tamales to some of the North Sides drinking establishments.
Ingredients
3          tamales (If you haven't seen Claudio the night before, most grocery  stores will have premade & cooked tamales in the prepared food section or deli counter)
6          eggs
¼ c      ricotta cheese
½ c      shredded pepper jack
½ c      diced onions
½         diced tomato
½ lb     sausage or veggie sausage
Directions
Preheat oven to 350 degrees
Sauté peppers & onionsspray a standard pie pan.Add sausage & peppersSlice tamales into 1-inch pieces, place in pan
Whisk eggs and ricotta together and pour into pan
Cover with shredded pepper jack
Place in oven and bake for 20-30 minutes until eggs are set to desired doneness.
Sprinkle with paprika, salt & pepper to taste.
Enjoy!!!
Related:
Crime Stats By District
Columnists