A St. Patrick's Day treat: Corned Beef and Cabbage with Dilled Red Potatoes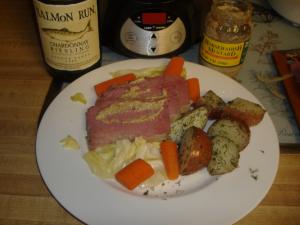 With a little help from your slow cooker, this recipe proves Ireland has more to offer the world than green beer for St. Paddy's Day.  Remember you can "corn" your beef, but don't let your meat "loaf."
Corned Beef & Cabbage w/ Dilled Red Potatoes
(Serves 4-6)
Ingredients:
Corned Beef & Cabbage
3-4 lb. corned beef available pre-spiced from the supermarket or learn how to make your own from Bon Appetit.
1 small head cabbage
5 carrots
Dilled Red Potatoes
12 small red
2 Tbsp. Olive Oil (light)
1 tbsp. dry dill (2 tbsp. fresh dill)
 Directions:
1) Place your corn beef in a slow cooker and set on low for 3:30.  (If you are preparing this in the morning for later that day and your slow cooker has a warm mode you can set it for 2 hrs and let it warm until you get home.
2) When you get home (or 45 minutes before timer is up) bulk chop your cabbage, peel & cut your carrots into 2 inch chunks, add to slow cooker and raise heat to high for 45 minutes.
3) Quarter your potatoes and add to salted boiling water.  (If you start and heating the water after you add the cabbage & carrots everything will be done at the same time.
4) Add potatoes to boiling water.  Cook for 15-20 minutes until tender.  Drain, add oil & dill.  Salt & Pepper to taste.
5) Slice meat against the grain into ¼ inch slices and serve with a  spicy horse radish mustard!
Editor's Note: Please comment below on Paul's recipes.  I can report that we did a party to enjoy his last entry of Manhattan Clam Chowder. Paul's Grandmother's use of tomatoe soup gave it a different twist on clam lovers' delight.
Having increased the recipe by three, I used various sized containers to freeze the leftovers for future meals...like today!

Related:
Crime Stats By District
Columnists