Frolicking goats to buck up your holiday in Bucktown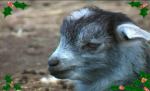 This holiday greeting seemed a good way to show the fun loving nature and spirit of many who call Bucktown home.
Though we have no reason to believe these "actors" are part of the community, the mere fact that they are goats made us think that they may have had a distant relative who lived on Chicago's near northwest side many decades ago.
So crank up your speakers and enjoy a few giggles!  There may be slowness in playing, but hang in there...it is worth it!
Related:
Crime Stats By District
Columnists