Mariano's day 1 in Ukrainian Village's former Dominick's with the Mayor and day 2 with West Town shoppers
Bob Mariano, Roundy's Chairman and CEO started the pre-launch of the Mariano's, first opening of a newly acquired Chicago Dominick's store, in Ukrainian Village at 2021 W. Chicago Ave., with Mayor Rahm Emanuel  being part of the ribbon cutting ceremony and a store tour, early morning Mon., Mar. 24. Also part of Day 1 activities were members of the West Town community. Day 2 the store began its 7-day a week schedule of 6 a.m to 10 p.m. 
Onward Neighborhood House (ONH), 600 N. Leavitt St., was presented with a $2,500 check in support of their Food Pantry which serves about 150 families each month.  Donna Webb, ONH Program Manager, spoke on behalf of the agency, indicating that it would be helpful for the children and families they support in West Town. She also said that Mario Garcia, ONH Executive Director, asked her recently if she had stock in Mariano's, since she talked about it all the time. Those comments brought smiles and claps from the hundred some people present. 
Mariano then welcomed the Mayor saying that he supports his ongoing efforts to have grocery stores in all neighborhoods. The Chicago Ave. store to date is employing 350 and that number will increase when the store is set-up in the next few months in the format of a full Mariano's. 
Pointing out that grocery stores are an economic engine for neighborhoods, Emanuel praised Mariano's commitment to bring stores with fresh fruits, vegetables and meats throughout the city." He  also said that, "In a short period of time, Mariano's will be bringing 10,000 jobs into the Chicagoland area. That is an incredible economic engine for our families, kids and people coming into the work place. 
"We are now working with Mariano's in public schools as well as with community colleges, training people to make sure that they can get these types of jobs. I'd like to thank you for working with neighborhoods for their revitalization as well as insuring that the students at Chicago Public Schools and Community Colleges have access to these types of jobs, so they can get started on a career with the kind of resources they need or so that they can continue their education." 
In a lighter tone Emanuel asked that no one tell his wife that Mariano's opens at 6 a.m., because she will have him stopping to pick up something after his 6 a.m. swim.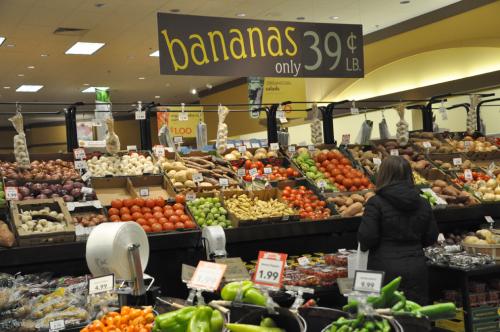 The shopping experience
In his opening remarks on Monday, Mariano said, "We will make this store part of the community and we do that by listening to our customers, making sure that our offerings are consistent with what they are looking for." 
The sincerity of those words were illustrated later. Ukrainian Village resident Harriet Siller said that she was once a Jewel employee and "service was a big deal. But Mariano's service on Western Ave. is the best that I have ever seen. 
"I put them to a test here today though, so we will see. I couldn't find red (pink) peppercorns. I asked and they directed me to their 'queen of spices' and she told me she would get it in." 
Siller and fellow Ukrainian Village resident Judith Querciagrossa discussed the event and the friendliness of the staff while enjoying the food that they had set-up for breakfast. Querciagrossa said that she was "encouraged by the fact that they appear to be creative thinkers. I am interested in organic produce as well as fish. I am particularly concerned about GMO fish (genetically modified organism). They say they will not carry any. So I feel good about that." 
The "Queen of Spices" stopped by their table and said the pink peppercorns would be in the store because she just ordered them. Siller, Querciagrossa and this reporter were duly impressed. 
During Tuesday, various online comments were exchanged. Some showed some skepticism. An area resident, said that it is "so over-hyped, but it's a step up from Dominick's (not saying much) for sure. I had a great smoothie, coffee, and it will be better than Jewel to make quick trips, but for my weekly grocery trip I will still go to Whole Foods. It's just a really cramped space with a bad layout, and isn't as nice as the other Mariano's in my opinion. They had a tough spot to move into." 
Another resident reported that in two trips to the store on Tuesday, one was good and the other bad but that everyone was "super polite and friendly." 
"I've never been to a Mariano's before. I also did not shop much at the Dominick's. I visited the new Mariano's today and was very excited about it. You can get regular items as well as specialty items plus all the food bars. The customer service was great. You could tell everyone was 'new' but trying with great attitudes, polite and friendly. I will probably stop going to Jewel and favor Mariano's in the future," said a Tuesday shopper. 
"Just got back from the new Mariano's on Chicago Ave. I bought some $4 potted tulips and freshly squeezed orange juice. The layout felt pretty similar to the old Dominick's, just freshened up a lot. The Vero coffee tastes great too. Tons of samples…I think I sampled a few things twice. My 2-year old daughter was in heaven with the gelato samples. Beyond the grand opening day crazy parking lot situation (had to circle a few times and stalk a spot), I am glad Mariano's is finally here in the neighborhood," said Brian Jansen from Noble Square. 
Gelato got another shout-out from Suzy Wahl who said,"I like the  mini gelato for $1.00 and also love the $6 entrees. I will be taking my daughter for gelato often!" 
Others found the grill station a great solution for a healthy dinner on Tuesday night. Meat and seafood selections are prepared on site at no extra charge.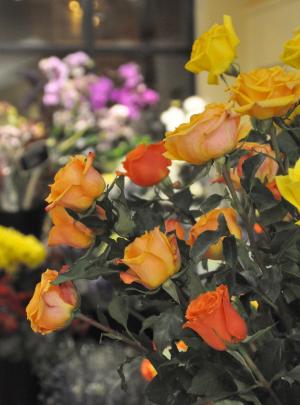 Tuesday evening at 9 p.m., the store was still bustling with customers and cheerful workers. Personnel were stocking the shelves without having large carts blocking the aisles. They were smiling, polite and offered to help. Though it was freezing cold outside, walking into their flower department gave an illusion of spring with bright colored tulips and roses, to name but a few. 
Backgrounds
The Chicago Ave. store is the fourth Mariano's store to open following Roundy's acquisition of 11 Dominick's locations in December 2013. In the leased space, this opening brings the total of Mariano's stores to 18 across the greater Chicagoland area. Being built from ground up, the next Mariano's in this area will be at Ashland at Webster Avenues. Though no date is being given, indications are that it should be operational before winter 2014. 
Roundy's operates 166 retail grocery stores and 113 pharmacies under the Pick 'n Save, Rainbow, Copps, Metro Market and Mariano's retail banners in Wisconsin, Minnesota and Illinois. Founded in Milwaukee, WI, in 1872, Roundy's has close to $4 billion in sales and more than 21,000 employees. 
Committed to helping the communities in which they have stores, Roundy's established a Foundation in 2003, the Roundy's Foundation mission is to support organizations working to relieve hunger and helping families in crisis due to domestic abuse, neglect and other at-risk situations.
Onward Neighborhood House like Erie House, 1347 W. Erie St., and Association House of Chicago, 1116 N. Kedzie Ave., are organizations that began as part of Jane Addams' settlement house movement. They have served the West Town and Humboldt Park communities since the late 1800s when they served the waves of immigrant populations coming into Chicago. 
Related:
Crime Stats By District
Columnists