Richard Tilley honored by Chicago City Council
A veteran of World War II, Richard Tilley, 91 year old Wicker Park resident, is being honored by Chicago's City Council with a declaration and led the Pledge Of Allegiance to the Flag at the July City Council meeting.
A few years ago Alderman Ed Burke, 14th Ward, began honoring World War II veterans by having them lead the Pledge of Allegiance as City Council meetings at the opening of their monthly sessions. "There are not a lot of those young boys left any more so this doesn't happen every month," explained Alderman Proco "Joe" Moreno, 1st Ward, who recommended Tilley for the honor. 
"I saw more action before I went into the army," Tilley told Burke in a meeting prior to the City Council meeting. "We were bombed [in his hometown of Wellingbourgh, England] several times by the Germans."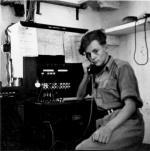 By the time he went through military training, following receipt of his draft notice on his eighteenth birthday, the war in Germany had ended and he was shipped to the Far East in June 1945. "But by the time I got there, the Japanese had surrendered. I always said that was because they heard I was coming," he said laughing. He spent three years as a signalman "bashing out Morris Code" in India, keeping peace between the Hindus and Muslims. 
"What brought you to this country," asked Burke. "A job*," responded Tilley. "One night I got a phone call asking if I would like a job in America. Following a meeting in a London pub, I was first sent to Sweden for several weeks to learn about some Swedish equipment [pre-press machines in the printing industry]." 
He landed in Chicago on June 26, 1962, his birthday, with one suitcase "and a lot of trepidation," explained Tilley. He worked for U.S. based Royal Zenith the rest of his career until retiring in 1996 as Senior Vice President of Service for North America and Canada. 
A resident of Lincoln Park for several years, he moved to Wicker Park in 1976 where he became well known for his gardening expertise. A weekly volunteer in the Wicker Park gardens, as well as his own, Tilley has taught several gardening workshops for the Wicker Park Garden Club and written for Our Urban Times. 
One of five child, four boys and one girl, they grew up in a home with outdoor "plumbing," one water faucet over a stone sink, no electricity and gas for lighting and cooking. "I guess I did well by moving here," said Tilley.
*As was traditional in Europe and early America, boys left school at the age of 14 and went into an apprenticeship. Tilley had a two-year apprenticeship with Hunter-Penrose, a printing company where his older brother Tom worked. When he re-entered civilian life in 1948, he returned to that company.
Related:
Crime Stats By District
Columnists