Sailing apprenticeship opportunities can lead to possible summer jobs for Chicago teens
High school students, not just Chicago Public School but private school as well as home schooled students, between 15 and 18-years-old who live in Chicago have an opportunity to apply for a Sailing Apprenticeship which runs from Mar. 17 to May 21.
The class is limited to approximately 15 and it provides opportunities for summer employment. The free program pays $100 to each student on completion of the course.
Sponsored by a partnership of After School Matters, the Chicago Park District and Navy Pier, the class teaches more than sailing skills. "They learn life skills as well as vocational skills," explains Michael Anderson, the class instructor. "They learn such things as leadership and communications skills as well as how to teach and set up a sailing center."
Whereas they begin training at Navy Pier, the class moves to the Chicago Park District Judd Goldman Sailing Center at Burnham Harbor, when the weather permits. The center, which provides on-water and classroom training for the physically disabled, is one of the locations that provides summer employment opportunities. Other jobs are available elsewhere in the Chicago Park District, including in Humboldt Park.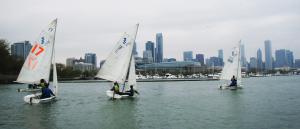 To apply, go to the After School Matters site and click on CLICK HERE to apply for Spring 2014 programs and internships. Click on the "Start a new SPRING application." Notice that in the upper right corner of the green box there is an ID number. WRITE IT DOWN. That number is your number for you to come back to the site and proves that you signed up, in case anything happens to your application.
You will be filling out several pages before you get to a page that has you enter the sailing program. In fact, you can sign up for multiple programs. The following application pages will require personal information and then give a review of entered data. The ID Number will be required for data entry throughout the application.
If you have any questions, instructor Anderson may be reached at 773.691.4215. Alternative numbers are Joseph Pittman at 312.287.2042 and the Chicago Park District Judd Goldman Sailing Center is 312.745.1700.
The application reviews and interviews will begin soon.
Photos courtesy of Michael Anderson
Related:
Crime Stats By District
Columnists