Santa on the CTA Holiday Train rolled along the Blue Line Saturday
"Oh, ho, ho," said Santa as his train rolled in to the Damen O'Hare bound Blue Line station around 5 p.m., Sat., Dec. 9. He wished everyone on both sides the platform a very happy holidays as his elves welcomed a few riders on his train. 
Prior to arriving at Damen, all the stations in the loop were crowded with people hoping to board the train or the follow-up train with more of Santa's Elves. By the time it reached Damen, very few people were able to board the special trains.
And as Santa pulled out of the station he said, "Merry Christmas to all…." and disappeared into the dark.
There were smiles all around, even on the faces of those who didn't get on the his train or the follow up one. 
When did the train begin?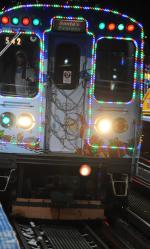 In 1992, employees posted a sign on the front of a train that read, "Seasons Greeting from the CTA." The train delivered food to various charities around the city. Now they are an extra ordinary experience for all who ride the trains, or just watch them roll by.
Related:
Crime Stats By District
Columnists