What to do for package safety? Here are some tips...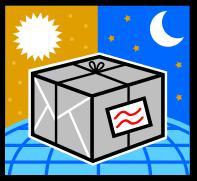 Packages sitting outside on the steps and in building lobbies are like special gifting for thieves at anytime of year but particularly during this holiday season with reported unusually high delivery volumes.
According to reports from the United States Postal Service (USPS) and private delivery services like United Parcel Service (UPS) and Federal Express (FEDEX), this year's package delivery loads are greater than before and they are all giving advice to shippers and recipients. 
UPS indicates that they are taking an active approach to securing deliveries by having their drivers find the most secure areas to leave customer's packages. However, more packages mean more opportunity for someone to steal them.
There have been multiple incidents where thieves follow a delivery truck as it makes its appointed route. Then, as soon as the delivery person drops off a package and drives away, the thief jumps out of his vehicle, runs up to a porch or doorstep and steals the packages. 
To make their deliveries safer, UPS is offering free online service called UPS My Choice. This tool allows customers to designate exactly where they would like to have their packages delivered (e.g. Front Door, Side Door, Back Door, and even redirecting their deliveries). My Choice also offers proactive alerts via email or phone and allows alternate delivery options to put recipients in control of their deliveries. 
Additional delivery tips
If you know you're not going to be home to receive a delivery, have it sent to a relative or trusted neighbor who will be home.
Have your packages delivered to your place of business instead of your residence.
Always take in packages left on a porch or doorstep as soon as possible to reduce the opportunity for someone to do free "shopping."
Always try to request signature confirmation on deliveries. This will make certain that the delivery person will get a real person to sign for the package and he won't leave it unattended on the front porch. 
What to do if you see suspicious activity
If you see any suspicious activity within your neighborhood:
If you are observing it, call 911.
If it happened earlier call your local CAPS office or 311. The 12th District CAPS Office can be reached at 312.746.8306 and the 14th is 312.744.1261.
Related:
Crime Stats By District
Columnists