BCO gives value-add to members and businesses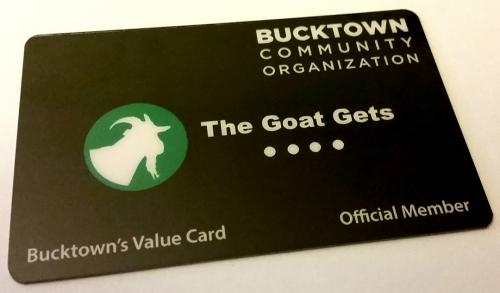 The Goat Gets card is a way that the Bucktown Community Organization (BCO) came up with to give value-add to their membership. It's simple for the member and the businesses. 
A growing list of businesses are signing up to be part of the program, which launched mid-September. They report that it is a win/win for the business and BCO members. Each participating business displays a sticker in their window and is listed on the BCO website. 
The types of businesses vary as do their offerings. From services to product, the "deals" include discounts to free items. 
Card holders merely show their card at time of purchase and they are given the special consideration. 
"It's an honor system," says Steve Jensen, President of BCO. "To be able to add metrics to track the usage is something we can't afford to do but we are getting feedback from members and merchants. Everyone seems happy and excited about the program." 
Jensen gives credit to Kelly Roche and her husband Doug Rodewald. "They have a discount and points reward business and helped in setting up the plan. BCO paid for materials and the program is running itself. We encourage members to check the website regularly to  know about the latest offerings."
Related:
Crime Stats By District
Columnists