Bucktown Arts Fest…They do it the old fashioned way…as a community

When community members had festivals and events to promote, give back and strengthen their neighborhood and received the extra benefit of building community, residents in the community actually did the work. For the Bucktown Arts Fest (BAF), they still do it the old fashioned way. 
In recent conversations and meetings around the festival financial transparency issue, questions surfaced about BAF. 
At the Wicker Park Committee's (WPC) June meeting Steve Lipe, a Bucktown Community Organization (BCO) member, asked why the coalition of 5 community organizations did not include BAF on their inquiry list. 
"They don't collect money at the door," said WPC President Leah Root. But Lipe felt that they were using an outside management service. Root said that they would check. 
After learning that the BAF operations were being questioned, Melissa Hellstern, President and Committee Chair of the event, wrote an open letter to the community and sent the financials to BCO's President, Steve Jensen. 
Who are they?
Hellstern explains that the Bucktown Arts Fest is a non-profit run completely by neighborhood volunteers in celebration of the arts. 
There is no paid staff (unless dinner at monthly meetings of volunteers or gratitude from the community is considered payment). No Fest management company is hired. They handle vendor signup and management. They use an online service on which artists submit their applications. 
What is the event?
The event started with four artists (Bob Smeltzer, Joe Kotzman, Tony Cachapero and Rodney Patterson) who decided to have an art fair to show their work and have a picnic in Senior Citizens Memorial Park. It has grown into an event that draws approximately 40,000 people annually. 
In addition to the artist booths and food vendors, they have a kids tent and three "stages." The main stage hosts a variety of performers while a circle area provides space for theater and dance performances and another space for the New Jazz Root stage. 
While the number of artists has grown to 190 in their juried show, the artists are individual artists who are at their booth to share their work with attendees. 
The fest objectives have remained in tact too. They are to:
Provide participating artists with an excellent venue to share and sell their work at an affordable price. 
Allow the community access to art, theater, music, poetry and dance without a fee.
Utilize all of profits to develop, support and implement arts and education programming at Holstein Park and in the Bucktown/Wicker Park neighborhoods.
What are their financials?
There are no gate fees for attendees. According to Hellstern the artist booth fees are among the lowest, if not the lowest, in the city. Booth fees are $300 or $200 for senior artists, ages 60 and over. Other fests range from $400 to $1200 per booth. Vendors pay a flat $700 and $300 for electric, if needed. 
She reports that roughly 60% of the fest is paid for by artist and food vendor fees, 40% comes from beer, sangria and merchandise sales.
"When the fest is over, we keep one year's worth of our expenses in savings and we spend the rest to support arts education in our neighborhood," explains Hellstern.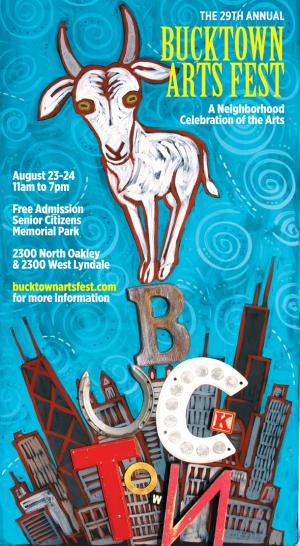 Where does the money go?
Funds resulting from this year's fest on Aug 23 and 24 will be used as in all previous years. They will develop and support arts education programming at Holstein Park and in the Bucktown/Wicker Park neighborhoods. 
Their funding pays for the teachers and supplies for art and music classes. Holstein Park receives a small fee from each student, which goes directly to support the Park. 
For the past three years, they have held four classes in Holstein's Fall, Winter and Spring sessions. They are:
Painting and drawing classes for adults and kids, taught by Connie Hinkle
Rock band and guitar classes for adult and kids, taught by Bucktown Music teachers 
In addition, they offer music and art to the 100 kids in Holstein's Summer Day Camp. Grant monies go to Zephyr Dance's artist-in-residence at Holstein Park. And, they support the arts in local schools by donating items like band instruments and early reading books, particularly to Pulaski Elementary.
Donations are another way that they are able to foster this type of community enrichment. 
"They are a community festival, run by local artists and they give back to the community," said BCO's Jensen. "We support the open nature and small feel of the Bucktown Art Fest which is free and an asset to the community for 29 years.
Related:
Crime Stats By District
Columnists